Junk Removal Services in Youngsville, NC
No one should be expected to do junk hauling projects on their own. That's why we're here to help when you've got unwanted clutter in Youngsville, NC!
Book Online Now!
Save $20*! Same and next-day appointments available!
BOOK NOW
Same-Day Junk Pickup in Youngsville, NC
While Youngsville is a small town containing a couple thousand residents, that doesn't mean there aren't some larger projects to get into. There are many new developments, farms, and local boutiques that will need an item hauled away or an occasional cleanout. Luckily, Junk Doctors is just a town away, helping residents and business owners tame their junk with full-service junk removal in Youngsville. Call us to schedule your appointment, where you'll receive a free quote.
Why Our Junk Removal in Youngsville?
Junk Doctors is North Carolina's #1 trusted junk removal company. Our neighbors outside of Raleigh save time when they book our junk-hauling services in Youngsville. We've kept local homes and shops clean for over a decade, and we go one step above by recycling and donating what we can. We're professional, friendly, and affordable, so when you need to clean out a home or toss furniture, the price reflects just that.
Licensed and insured. 

Even though we work safely and efficiently, we still have insurance to protect your property and our team.

Affordable. 

Our prices just make sense. With volume-based pricing, you only pay for the amount of junk you want us to take.

Professional. 

We're a friendly crew that enjoys providing our community with exceptional services. We're happy to help you next!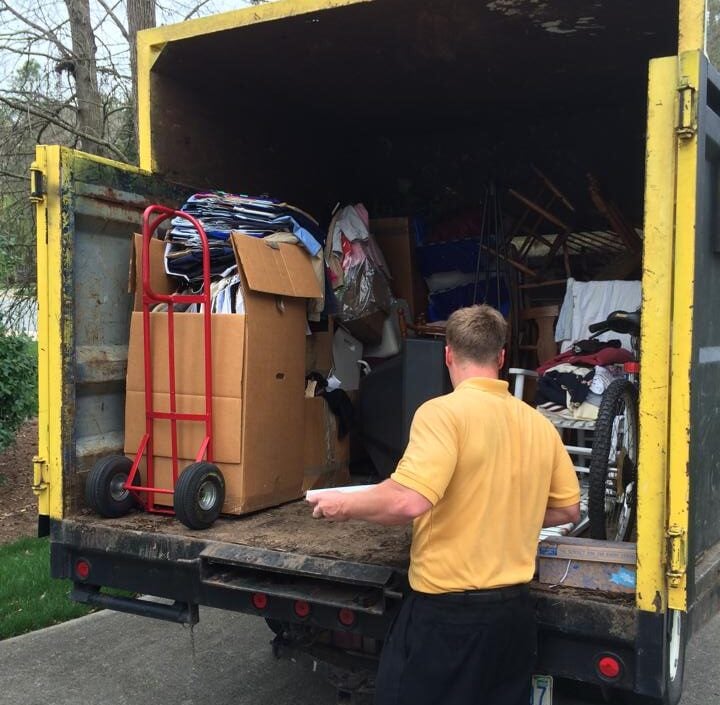 How it Works
Reach out. First, book your appointment online. Set up the time and day that works for you.
Prompt arrival. On the day of your appointment, you'll receive a courtesy call letting you know we're on the way.
Show us the items! Once we arrive, let us know what you need us to haul from your Youngsville property, and we'll give you a free quote.
Approval and removal. Once you accept our quote, we'll begin loading up your junk. After everything is gone, we'll sweep up and collect your payment. Finally, we'll head out to dispose of your items responsibly.
Appliance Removal in Youngsville, NC
Appliances are tricky items to get rid of, especially in a small town like Youngsville. Having to call a friend or family member to help you haul away an appliance can be a pain, but Junk Doctors will come to you! When you schedule an appointment with us, we'll show up on time to quickly and safely take your old appliance. You don't have to lift a finger or worry about the disposal process. If it's in working condition, we'll stop by the Wake Forest Habitat for Humanity to drop it off. If not, we can take it to a local transfer center to keep it out of the landfill.
About Us
Junk hauling doesn't have to be something you leave to "big box" businesses. As it turns out, there's a local hauling service that want to help! Junk Doctors is locally owned and operated, and we proudly provide junk removal services in Youngsville, NC to clients each and every week. On top of this, we also work in many additional locations. No matter where you're from, expect service with a smile and for our team to haul your junk away fast. Top-notch work is what we're all about!

Our Main Service Areas
So quick, efficient, professional and affordable. Within 24 hours the items we needed hauled away were gone! Second time calling and great experiences both times!

Amy Holloway
They came out and hauled off a ton of junk. They were excellent to work with and a pleasure to deal with. Very professional and prompt.

John Bradley Nosek
The guys we great! They cleaned up everything, were fairly priced, and did it all without me having to be there. I will definitely use them again.

Tawni Lynn
these guys are polite and on time. they were finished with in two hours and they cleaned the floor,we were very satisfied with the service,and will recommend them to our family and friends.

James Manuel Outing
See More