Property Management Services in NC with Junk Doctors
We're responsible. We're reliable. We're not just junk haulers, we're managers.
Book Online Now!
Save $20*! Same and next-day appointments available!
BOOK NOW
Responsible Property Management Services in NC
Junk Doctors is your local junk hauling service. We're known for collecting and hauling junk all around the Raleigh, Greensboro, and Charlotte cities in North Carolina. But we do much more than just junk pick up! We have teams qualified in many fields including property management in NC. Our teams are trained and experienced when it comes to home improvement and management services. You can trust your property with us.
Let's face it, real estate is the business to be in right now. With areas developing for the benefit of its communities, cities in NC are making these changes. And with the development of properties comes the need for property management companies. Every experienced property owner, or landlord, will need services to maintain a property.
That's where Junk Doctors come in. We're experienced in home logistics like plumbing, electrical safety, construction, and more. So our teams are well equipped with the skills needed to manage your property and keep it up to North Carolina standards. If you would like to learn more about how we handle real property management issues, call us today. Or, use our online booking to set up a service appointment.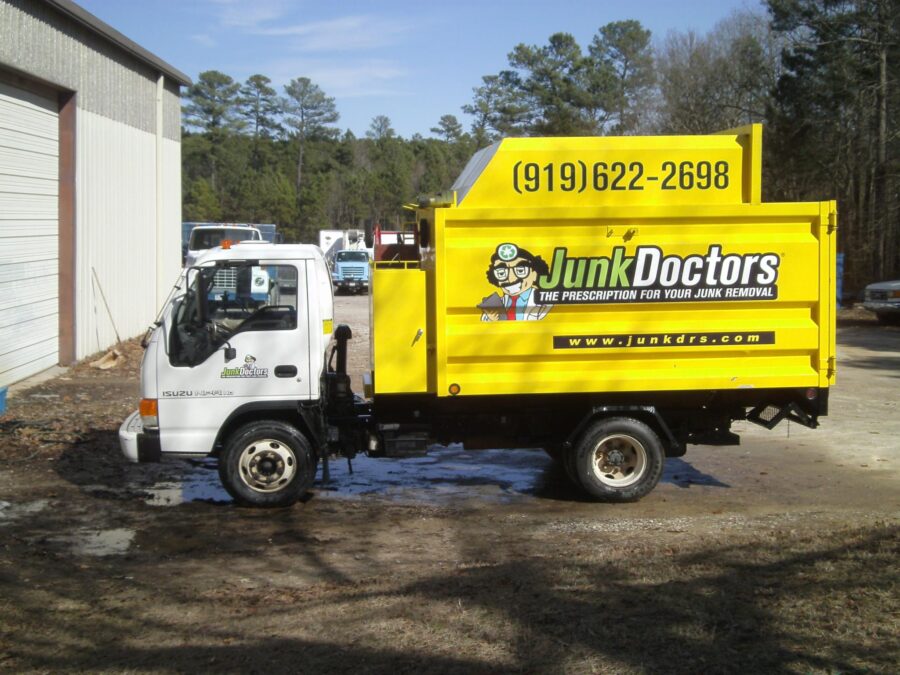 Why Junk Doctors for Property Management Services in NC
Junk Doctors are reliable when it comes to home improvement and renovation jobs. Likewise, our teams are experienced in these areas and can handle all tasks for property management services in NC. So, if you're looking for a company to ensure that your property is maintained and kept to the right standards you've found them! Also, we have all the right permits needed to do the job. Junk Doctors prides itself on being a licensed and legit junk removal company.
The Process for Property Management Services in NC
Follow these steps and you'll be worry free about your property!
Give Us A Call We're just a call away. We're available in three different service areas in North Carolina. Greensboro (336) 338-7208, Charlotte (704) 659-1482, and Raleigh (919) 626-9506. Our lines are open 24/7 so call us anytime to set up any type of service. You can expect excellent customer service from our reps as well. They'll be happy to hear from you and chat about what you need.
Service Options We want to make managing your property a convenience for you. Our teams can be on call, or you can set up regular maintenance visits. Let us know exactly what you need and either way we'll be there when you require our services!
Arrival Junk Doctors is always on time and on task. We can take on any job within 24 hours and we'll keep you in loop about our arrival and completion of services. We do this so you can go about your day getting done what you have to!
Paying for Services Paying for your services is easy as well. You can use Multiple forms of payment or choose whichever is convenient for you. Such as cash, card, or check.
Property Management Pros in NC
When you choose Junk Doctors we show up ready to work with all the necessary equipment. The tools and supplies for completing the job are always in tow. And there's no dawdling. We come, provide a service, and get the job done safely. Overall, your property should be handled with care. When things aren't fixed right the first time, you'll just end up with more problems later on. That's because the technicalities of home systems are meant to be operated by those who have undergone the right training. When you hire our teams to manage your property they'll get it right the first time so you don't have to worry about recurring issues. It's easy to get set up with property management services with Junk Doctors.
As a property owner, it's expected that you'll get the occasional call for something not working. Whether it's a building or a residence. No home system is perfect. If this happens then you're going to want a team you can rely on. You'll want a team to be available to get that problem solved as soon as possible. Rest assured that Junk Doctors' teams are always ready to go! We provide quick services so you can have satisfied tenants and operating living spaces. It's important to us that we're available when you call. That's why we offer same-day and next-day services. Give us a call today and set up your services so you can be worry-free about your property.
About Us
Junk Doctors is your local junk removal service in Raleigh, Greensboro, and Charlotte. We're working to keep North Carolina clean, safe, and operating. With respect to recycling codes, we attempt to keep unnecessary items out of landfills and keep residencies clean and liveable. It's all a part of the bigger picture of a greener and happier NC.
We know all about the rules around here, and want to make life easier for communities by providing a service. It's really one less thing for you to worry about. Our teams are made up of experienced professionals, trained to do the jobs they do. Whether it's appliance removal, light demolition, or cleanouts, they're doing the job right. Providing hauling services to residences all over NC.

Items We Take
Household Clutter
TVs and Electronics
Old Appliances
Furniture
Yard Debris
Fences
Commercial Garbage
Construction Debris

So quick, efficient, professional and affordable. Within 24 hours the items we needed hauled away were gone! Second time calling and great experiences both times!

Amy Holloway
They came out and hauled off a ton of junk. They were excellent to work with and a pleasure to deal with. Very professional and prompt.

John Bradley Nosek
The guys we great! They cleaned up everything, were fairly priced, and did it all without me having to be there. I will definitely use them again.

Tawni Lynn
these guys are polite and on time. they were finished with in two hours and they cleaned the floor,we were very satisfied with the service,and will recommend them to our family and friends.

James Manuel Outing
See More