Large Item Pickup Services
Bulky item removal is a job best suited for the team at Junk Doctors. Since we'll do all the heavy lifting for you, you'll be able to scratch another item off your to-do list!
Book Online Now!
Save $20*! Same and next-day appointments available!
BOOK NOW
CONVENIENT BULKY ITEM PICKUP SERVICES
There's an old story about the Greek Titan, Atlas, who was forced to bear the weight of the entire globe on his shoulders. Sometimes, when trying to remove heavy items from your property, you might feel like you're in a similar situation. Don't worry, though. You don't need Herculean strength to get rid of heavy junk items. Instead, schedule large item pickup services from Junk Doctors. We're Charlotte, NC's #1 junk removal business, and we're ready to help you out next!
Why Our Big Item Pickup?
Unfortunately, getting rid of large junk items isn't always easy. Moving them out to the curb is painstaking enough on its own. Having them get rejected by public trash collection might just send you over the edge. Looking for a stress-free way to say goodbye to your unwanted large items? Our large item pickup services are simple: we haul the item off your property for you, and we aren't choosy about what we can and can't take!
From appliances and electronics and even exercise equipment, we're itching to lug your heavy junk away. We'll take plenty of care to make sure we don't drop anything, and we'll do the work for a fair price, too. What you'll pay us is based on the total volume of your junk. There are never, ever hidden fees, either!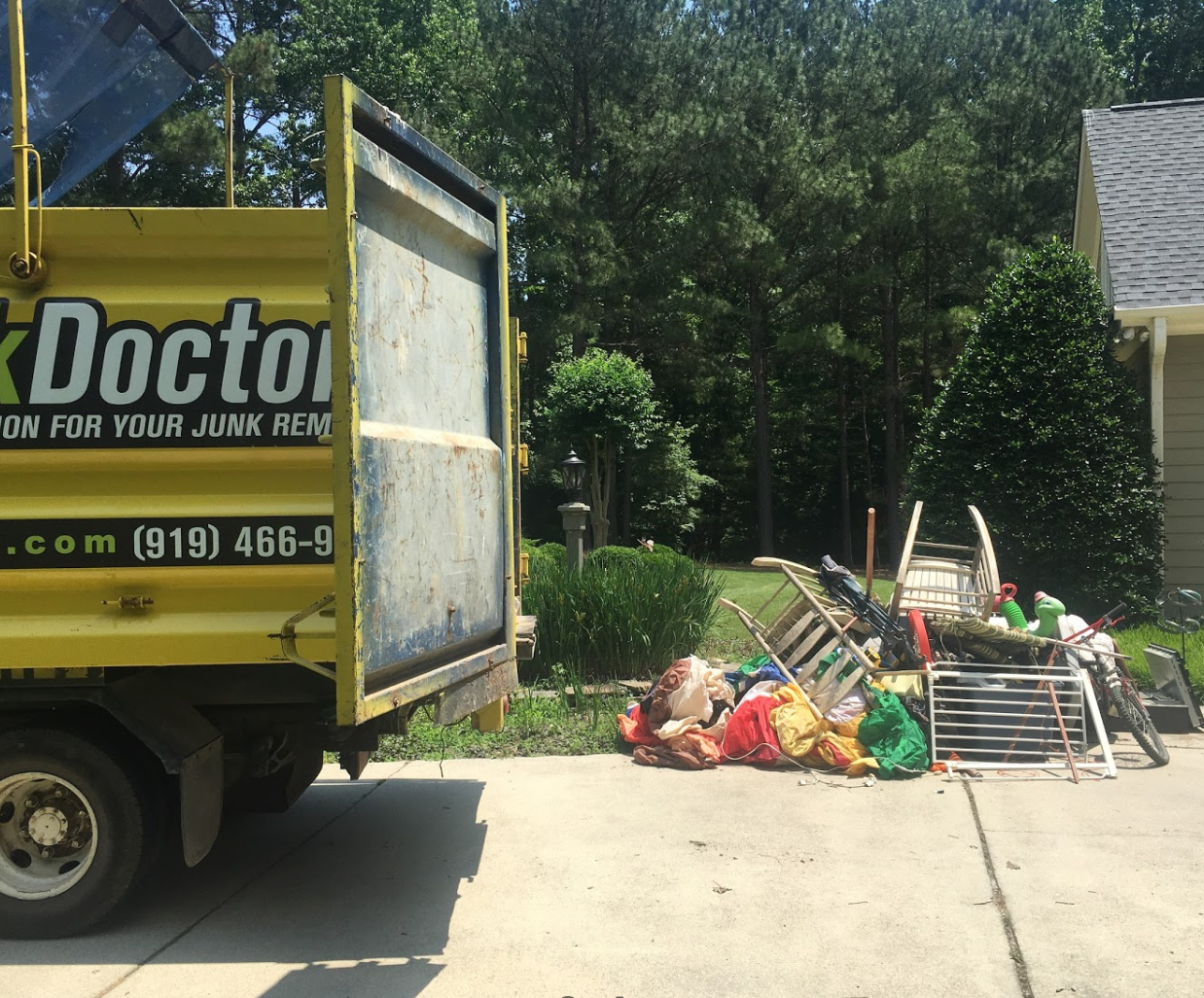 How a Large Item Pick Up Works
Before we can collect your bulky items, we'll need to know where to find you. Contact us online to let us know your address, as well as details about the junk.
When we arrive, please let us inside so we can see the bulky items for ourselves. Then, approve our upfront service quote.
We'll make sure we have several team members work together to lift up your heavy items and guide them off your property. We work faster than you'd think!
After your appointment, we'll move into the bulky item disposal process. We even donate lightly used items.
Bulk Furniture Removal in the Research Triangle
Getting rid of one piece of furniture can be difficult enough. Getting rid of an entire house's worth? That can be excruciating! However, when the work needs to get done, someone has to do it. Just make sure it isn't you. The team at Junk Doctors will be able to remove all your furniture from your property, and we can even do disassembly when needed. For example, we can take apart bunk beds and entertainment centers to make the removal process even easier. Even your heaviest furniture won't stump us!
About Us
Junk Doctors is a big deal in your area, but we're not a big franchise. In fact, we're completely locally owned. We were founded years ago by Lee Godbold and Christian Fowler, a duo of junk removal masterminds. Thanks to them, the Research Triangle has easy access to professional services that aren't so expensive. Fast results and low prices? What's not to like? Contact us today to schedule your large item pickup services!

Our Main Service Areas
So quick, efficient, professional and affordable. Within 24 hours the items we needed hauled away were gone! Second time calling and great experiences both times!

Amy Holloway
They came out and hauled off a ton of junk. They were excellent to work with and a pleasure to deal with. Very professional and prompt.

John Bradley Nosek
The guys we great! They cleaned up everything, were fairly priced, and did it all without me having to be there. I will definitely use them again.

Tawni Lynn
these guys are polite and on time. they were finished with in two hours and they cleaned the floor,we were very satisfied with the service,and will recommend them to our family and friends.

James Manuel Outing
See More