Office Cleanouts in NC with Junk Doctors
Choose Junk Doctors to handle your office cleanout services, so you can get back to work!
Book Online Now!
Save $20*! Same and next-day appointments available!
BOOK NOW
Thorough Office Cleanouts in NC with Junk Doctors
Hey, North Carolina. Junk Doctors, here! We're your local junk haulers providing all kinds of cleanout and removal services in NC. Our teams lift anything from sofas and tables to refrigerators and ovens, and can haul it by the truckloads! If you're doing office cleanouts in NC we're your best bet to get your space cleaned out and ready for new use.
Starting a business in North Carolina is a big deal! You'll want to get your niche off the ground and reel in your clients with the services you have to offer. Generally, the process is pretty regular. But after you've gone through all the registering and licensing, you'll have to prep your space for customers! That's where Junk Doctors come in! If you're taking over a used office filled with old junk we can haul that out of there. Or, if you're renovating a current space to give it a new look, we can take old furniture and appliances so you can make room for new ones.
Junk Doctors offers full-service office cleanouts in NC. We'll come in, take what you don't need, and dispose of it all in a jiff! Our process is easy and we make it all the more convenient. With options like same-day or next-day service, and service quotes with fair prices. Don't wait to get your business started, call us to come and clean out your space right away.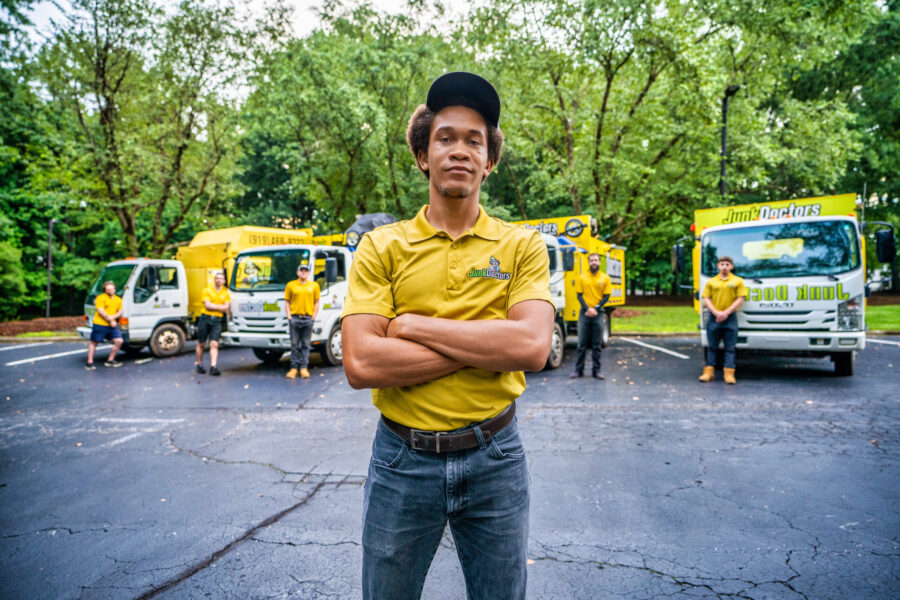 Why Choose Us for Your Office Cleanouts in NC
Junk Doctors have been in the junk pick up business for a long time. Our teams know the ins and outs of convenient and efficient hauling services. So when you choose us to take care of your junk removal services in NC, you're choosing pros! What's more, our teams always show up prepared. All the necessary tools and equipment required to get the job done will be supplied by us on the day of service. All you'll have to worry about is what items you want to get rid of.
Choose Junk Doctors because we care about our neighborhood. We're being careful about the way we dispose of junk, too. Your refuse isn't just hauled off to the dump. Because it's nothing for us to go the extra mile and donate to charities. Any items in good condition can be donated and reused. Also, items that can be repurposed are taken to recycling centers. Our intent is to get rid of junk the right way and do our part to keep NC green. When you call us to take your junk, you're doing that too!
When you choose Junk Doctors for office cleanouts in NC you're giving back to the community. Your support of our services comes right back around because we're neighbors. Doing our part to better the communities of Raleigh, Greensboro, and Charlotte, we're working to keep the areas clean and free of improper waste management. Local junk removal companies like us are all about
Our Process for Office Cleanouts in NC
Setting up office cleanouts in NC with us is easy and done in just a few steps!
Scheduling a Service – Scheduling your cleanout service starts with a call! We've got three main service areas, Raleigh 919-626-9506, Charlotte 704-659-1482, and Greensboro 336-338-7028. Give us a call at your location and we'll get you set up with an appointment. Our services are available same-day or next-day at your convenience. You can also book an appointment that works best for you by using our online booking. You can choose a sooner date, or a later one that better suits your needs.
Courtesy Call – It's just common courtesy. Great customer service is always a part of job. So with us you'll get it. Our service teams will give you a call and let you know when we're on our way. And we'll be sure to arrive on time to get the job done!
Estimate – We'll give you a no obligation estimate up front. So you know what to expect when it comes to paying for your junk pick up. Your junk removal cost won't be inflated either. We don't do that to our neighbors! You can expect there to be no hassles or ramped-up fees in the end. Junk Doctors will be sure to take care of you! At your convenience, we accept many different kinds of payment. Cash, card, or check will do!
A Clean Space – Your satisfaction with our service is important to us. That's why our junk removal teams do their best to leave you with a clean space after we remove all your junk. We'll sweep up and be sure to collect any furniture or appliance debris on the way out.
Carpet Removal in NC
Need to rip up some old carpet? That's something Junk Doctors can do for you as well. It's a tedious task so take a load off and call us. We'll come in with the right tools and carefully remove any carpet you need to be taken out. We don't have a limit either. When you set up your appointment, just specify the amount of carpet you have. As a matter of fact, it's helpful to measure the room in feet to give us an idea of the job!
About Us
Junk Doctors are your local neighborhood junk haulers! We're from North Carolina just like you and we want to make sure we're taking care of our communities. From Greensboro to Charlotte, you can find us hauling junk and doing our part to keep NC cities clean.
Junk removal is a big deal to us. We make sure that reusable items like sofas, refrigerators, or ovens are taken to places where they can be repurposed. Not thrown in the dump. It's a lot of work hauling heavy items like these to different locations, so we understand the stress it may put on residents. Junk Doctors doesn't mind taking on the load.
Our services make us proud, and so does our customer service. That's why we make ourselves available around the clock. Call anytime to set up an appointment and we'll be glad to come out and help you clean up your property!

Office Items We Take
Sofas
Sectionals
Recliners
Refrigerators
Electronics

Our Main Service Areas
So quick, efficient, professional and affordable. Within 24 hours the items we needed hauled away were gone! Second time calling and great experiences both times!

Amy Holloway
They came out and hauled off a ton of junk. They were excellent to work with and a pleasure to deal with. Very professional and prompt.

John Bradley Nosek
The guys we great! They cleaned up everything, were fairly priced, and did it all without me having to be there. I will definitely use them again.

Tawni Lynn
these guys are polite and on time. they were finished with in two hours and they cleaned the floor,we were very satisfied with the service,and will recommend them to our family and friends.

James Manuel Outing
See More