Refrigerator Removal Sevices
If you have a broken or old fridge on your hands, why wait to get rid of it? Junk Doctors offers prompt refrigerator haul away in your area at a fair price!
Book Online Now!
Save $20*! Same and next-day appointments available!
BOOK NOW
Fridge Removal in North Carolina You Can Count On
Have you ever had outdated or broken fridge or freezer taking up unnecessary space? If so, then you know the stress it can cause you and the challenges involved with getting rid of it. While there may be plenty of refrigerator removal services in your neighborhood, many of them may charge you excessive fees or just be downright difficult to reach. However, Junk Doctors is here to break the cycle of unprofessional fridge removal in North Carolina with our flexible and affordable refrigerator removal services!
Whether you have an outdated fridge at home or a commercial refrigerator that needs to go, we're here for you. That's because at Junk Doctors, our first priority is always the customer, and we're happy to customize our services to suit your needs! In fact, we provide a long list of commercial and residential junk hauling services across Central North Carolina communities.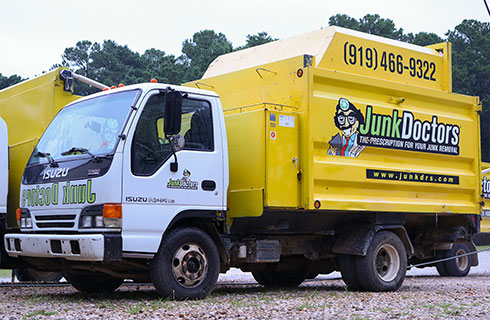 Why Us?
When dealing with bulky or large amounts of junk, we believe it's best left to experts. Not only does it take time, effort, and sometimes a helping hand to get rid of that old fridge or clutter, but it also requires a method of disposal. Fridges, for example, would need proper truck weight and hauling help in order to properly get rid of. Instead of overwhelming yourself with this, leave it to Junk Doctors to handle the job from start to finish!
Additionally, our refrigerator removal services result in responsible disposal without the extra effort. As local junk experts, we strive to keep landfill waste in North Carolina to a minimum and do everything in our power to recycle and donate everything possible. With us, your old refrigerator can be recycled instead of left in a landfill!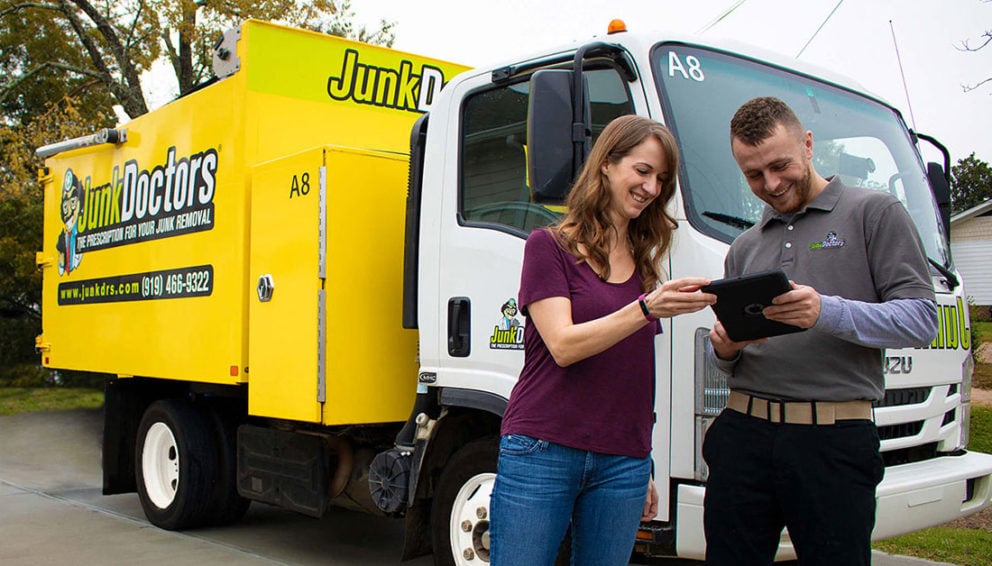 Our Process
Looking to schedule fridge removal in North Carolina? Simply call your service area or book online!
After we set your appointment in the books, we'll contact you to talk pricing. That way, you'll know what to expect.
When it's time for your appointment, we won't leave you waiting! After arriving on time, our crew will give you an official no-cost quote based on your junk volume.
Once you agree to the price we provide, haulers can start the job! Don't worry, you can relax while they do the dirty work.
How Fridge Removal in North Carolina Works
If you book the pros at Junk Doctors, your old or broken refrigerator will be handled with the utmost care. After the hauling crew safely hauls the fridge onto a truck using the proper equipment, they'll make sure the job is finished, pick up any remaining debris, and handle the disposal mindfully. As junk removal professionals with years of experience under our belt, we assure you that we'll utilize our connections to put your old refrigerator to reuse! We work with transfer stations, donation centers, and bulk item recycling centers in Charlotte, Raleigh, and Greensboro to make this possible.
Did you know plain, old fridges are made up of several recyclable materials that can be resold for reuse? To name just a few, freon, metal, and plastic can be removed, set aside, and reprocessed accordingly. Following our crew dropping off your old fridge at a local recycling site, certified workers use their machinery to break down the fridge. Before this is done, however, they must remove the refrigerant and put it in a tank. Then, they can disassemble the fridge's metal panels along with any other glass or plastic pieces. Once everything is handled appropriately, recyclable materials can be resold!
About Us
Junk Doctors is North Carolina's favorite and most trusted full-service junk hauling company. From refrigerator removal services to interior demolition, we do it all! Our crew is highly skilled and can handle jobs big and small. We also offer extraordinarily open availability that's hard to beat! If you need fridge removal in North Carolina at a moment's notice, we're your guys. We can offer you a 2-hour window with just a quick phone call!
Our local business started small in 2011 in Cary, NC. After years of hard work and dedication, the Junk Doctors team is proud to have grown and branched out to communities all over the state! Today, we have three locations in Raleigh, Charlotte, and Greensboro that keep affordable junk removal reachable for all NC residents. On top of that, we give back to our communities through donations and recycling. We only dump items that have zero value, and even then, we do it responsibly! After all, the areas we serve are not new to us and we do our best to keep them healthy and beautiful.

Other Appliances We Take
AC Units
Commercial Appliances
Ovens

Our Main Service Areas
So quick, efficient, professional and affordable. Within 24 hours the items we needed hauled away were gone! Second time calling and great experiences both times!

Amy Holloway
They came out and hauled off a ton of junk. They were excellent to work with and a pleasure to deal with. Very professional and prompt.

John Bradley Nosek
The guys we great! They cleaned up everything, were fairly priced, and did it all without me having to be there. I will definitely use them again.

Tawni Lynn
these guys are polite and on time. they were finished with in two hours and they cleaned the floor,we were very satisfied with the service,and will recommend them to our family and friends.

James Manuel Outing
See More