Sofa Removal Services in North Carolina
Are you in need of couch removal in North Carolina? Call Junk Doctors!
Book Online Now!
Save $20*! Same and next-day appointments available!
BOOK NOW
Same-Day Sofa Removal in North Carolina
Serving Charlotte, Raleigh, Greensboro, and surrounding areas, Junk Doctors are the professionals to call when you need sofa removal services! With an experienced crew and years of experience, our team has the muscle you need to move unwanted couches, sofas, and settees of any shape or size! There's no need to throw your back out when the professionals are just a call away. When you need to get rid of your couch in the Charlotte, Greensboro, or Raleigh areas, contact Junk Doctors!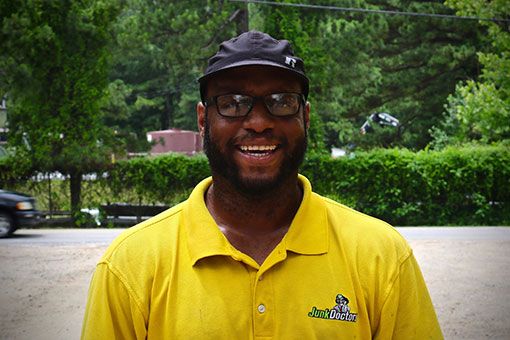 Why Junk Doctors for Sofa Removal
Junk Doctors are happy to serve some of the most populated areas in North Carolina with quality sofa removal services that won't break the bank! Our pricing system is based on the amount of space that your old sofa will take up in our truck, which means there are no hidden fees on your bill at the end of the day. Plus, when you choose our local business, costs are never inflated with corporate fees.
Additionally, because we are locally owned and operated, we know all the best ways to service residential homes of every shape and size! Narrow hallways or stairwells are no problem for our team of experts. When you need an old sofa removed from your home (or any other kind of furniture for that matter!), the Junk Doctors are the experts to call! Get in touch today for your no-obligation service quote, and say goodbye to your old sofa!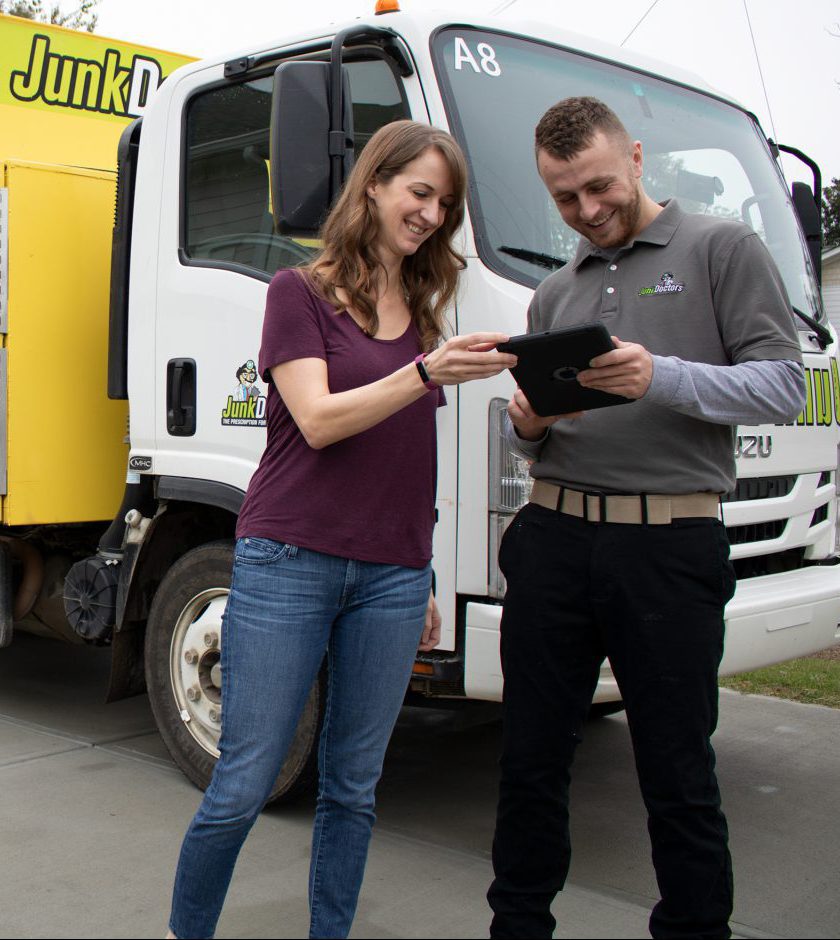 Sofa Removal Process
The first step is getting in touch with Junk Doctors! One of our skilled team members will ask you to describe the shape and size of your sofa so we can get a feel for the full scope of the job. We'll then give you an estimate for the cost of service, and schedule your appointment. Junk Doctors are available 24/7, so we're often able to provide same-day service!
Our team will always arrive at your appointment on time and ready to work! Once we're on the premises, just show us your old sofa, and we'll give you your final, firm quote for the removal. The Junk Doctors crew never starts working until you've agreed to our rate. We accept cash, cards, and checks for your convenience!
Sit back and relax as our team takes care of the heavy lifting! Our team always bring the right muscle for every job and we'll get that old sofa out of your way quickly and easily with no dings to walls, floors, or doorways. We're professionals, after all!
After your old sofa is loaded onto our truck, we'll sweep up after ourselves to ensure your property looks pristine! It'll be out of sight and out of mind once we haul away your old sofa and dispose of it properly!
Book Your Appointment Today!
Booking with Junk Doctors is quick and easy! You can conveniently Book Online or you can give us a call at our Charlotte, Greensboro, or Raleigh-Durham service areas! Don't see your area listed? Get in touch anyway; we have taken jobs outside our service area before, and have even occasionally worked in South Carolina! We're here to break down the barriers between you and safe, easy sofa removal!
About Junk Doctors
Junk Doctors is a locally owned and operated team of junk removers who are here to help with any and all kinds of junk removal services. From appliance removals to electronics recycling and even shed removal, we bring the muscle to each and every kind of job! Whether the junk is residential or commercial, no matter the shape or size of the junk problem, Junk Doctors is the solution!
We take care with every junk removal process, ensuring that your property always looks as good or better than when we arrived. In addition to your brand new space, we always sweep up on the way out to ensure you won't have to deal with leftover dust bunnies. Junk Doctors loves doing our part to keep our community clean, and wherever possible we will recycle or donate your old items, only hauling the leftovers to a landfill as a last resort. When you need any kind of junk removal services in North Carolina, think of Junk Doctors first!


Our Main Service Areas
So quick, efficient, professional and affordable. Within 24 hours the items we needed hauled away were gone! Second time calling and great experiences both times!

Amy Holloway
They came out and hauled off a ton of junk. They were excellent to work with and a pleasure to deal with. Very professional and prompt.

John Bradley Nosek
The guys we great! They cleaned up everything, were fairly priced, and did it all without me having to be there. I will definitely use them again.

Tawni Lynn
these guys are polite and on time. they were finished with in two hours and they cleaned the floor,we were very satisfied with the service,and will recommend them to our family and friends.

James Manuel Outing
See More
CONTACT US
Contact us today to receive a free, no-obligation service quote! You can book online, send us an e-mail, or call the Junk Doctors service area nearest to you!