Warehouse Cleanout Services
Cleaning out a warehouse is not a one-man job! With our full-service team, warehouse cleanouts get done in a professional, timely manner.
Book Online Now!
Save $20*! Same and next-day appointments available!
BOOK NOW
Trusted Warehouse Cleanout Services in NC
If you're in the process of moving or closing down your warehouse, you're probably familiar with the hard work and time that goes into cleaning it out. Since warehouses are usually packed with inventory, tackling the warehouse junk removal yourself can take days, maybe even weeks. At Junk Doctors, we want to save you all that time and stress by covering your warehouse cleanout services for you! After all, we believe your time can be better spent focusing on your other responsibilities. Managing a warehouse already leaves you with enough on your plate! As a full-service operation, we cover all the heavy lifting, hauling, and disposal of your warehouse junk so that you don't have to.
Junk Doctors is a locally-owned, top-shelf junk removal company. After years of consistent 5-star reviews, we're proud to be NC's best-rated company in its industry! That's why you can trust our warehouse cleanouts. Our guys make sure to bring all the necessary tools to get the job done right and fast.
Why Us for Warehouse Cleanouts?
At Junk Doctors, we go far beyond the bare minimum with our services. Unlike many other companies, we flex around your needs and adjust to your busy schedule to provide the perfect fit for you. We even go above and beyond with your warehouse cleanout services by sweeping up when the job is done! And what's more, is that we do everything at a fair, low price.
So, how does pricing work? With our volume-based system, it's super easy to understand. At your appointment, our guys will check out how much warehouse junk you have before presenting you with a free upfront quote. And yes, our warehouse cleanouts and other services are all priced the same! If you're satisfied with our quoted rate, simply approve that quote and rest assured that your total price will be no higher than that price. We're anti-surprise fees, so we'll steer you clear of those!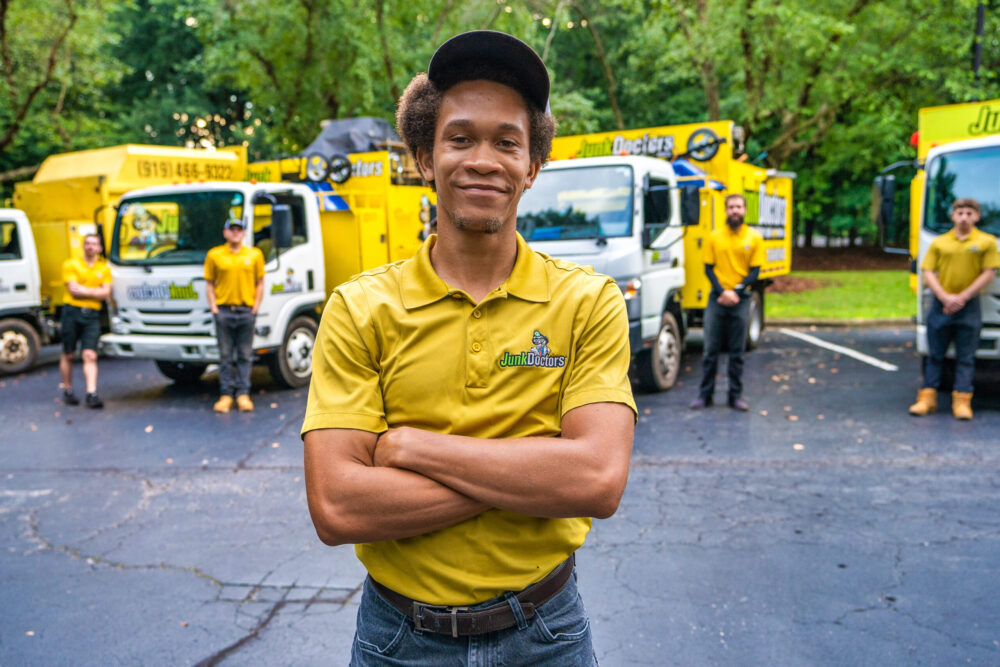 Our Warehouse Cleanout Process
Our warehouse cleanout services start with you! Click here to schedule an appointment online or dial our number.
Next, we'll contact you when haulers are on the way to you! They'll arrive on time, if not early.
Then, upon arrival, they'll do a walk-around of your warehouse to see how much junk you have. From there, they'll land on a price!
After presenting that price to you through a free quote, our guys await your approval. Once you approve the quote, they'll start rounding up junk!
Product Waste Removal
If you're seeking warehouse junk removal, there's a strong chance that you have plastic product waste needing disposal. Whether you're closing down or just cleaning up your warehouse, there's got to be some trash and recyclables to let go of. However spread apart that waste may be, our guys will handle it with no problem! With us, all you have to do is schedule an appointment and approve your quote for 5-star warehouse cleanout services. Additionally, we dispose of everything properly by recycling as much as possible! Considering all the plastic product waste you may have, that's a must.
After you approve your quote, our guys will disperse amongst your vast warehouse space to pick up your trash. Collecting the different materials in containers, they'll quickly clean up your warehouse to simplify your next steps! Then, they'll load up all the waste onto one of our trucks and do one last walk-through, making sure they got everything. After confirming that, they'll drive to a local transfer station to drop off all your product waste for recycling and disposal!
About Junk Doctors
Junk Doctors is a locally-owned company catering to many centrally-located NC communities with eco-friendly junk removal services. We take pride in offering countless commercial and residential services that other companies can't hold a candle to, from warehouse cleanouts to interior demolition! And no matter what service you book with us, we bring the same top-tier service. With our professionals' attention to detail, no box will be left unchecked. To work with our team of local pros, just reach out over the phone!
While other junk haulers take shortcuts on your disposal by landfill dumping, we prioritize sustainable methods. By prioritizing recycling and donating, we care for the environment of our service areas better than the others! Whether you schedule warehouse cleanout services or something else, our guys will assess every item to determine the proper destination for everything. In an effort to give back to the community, we work with charitable organizations to donate reusable goods like furniture and equipment. And by working with us, you get to contribute, too!

Warehouse Junk We Take
Old Inventory
Product Waste
Food Waste

Our Main Service Areas
So quick, efficient, professional and affordable. Within 24 hours the items we needed hauled away were gone! Second time calling and great experiences both times!

Amy Holloway
They came out and hauled off a ton of junk. They were excellent to work with and a pleasure to deal with. Very professional and prompt.

John Bradley Nosek
The guys we great! They cleaned up everything, were fairly priced, and did it all without me having to be there. I will definitely use them again.

Tawni Lynn
these guys are polite and on time. they were finished with in two hours and they cleaned the floor,we were very satisfied with the service,and will recommend them to our family and friends.

James Manuel Outing
See More