Junk Removal Services in Belmont, NC
Cheap junk removal shouldn't be impossible to come by. Junk Doctors will be sure to provide you with a real bargain for junk hauling in Belmont!
Book Online Now!
Save $20*! Same and next-day appointments available!
BOOK NOW
PROFESSIONAL JUNK REMOVAL IN BELMONT, NC
The word Belmont comes from a phrase that means "beautiful mountain". While there aren't necessarily notable mountains in Belmont, NC, there are many things that lend to the beauty of this community. The cleanliness of Belmont might be one of the most important reasons why people love the city. To help keep things clean, call on Junk Doctors for our junk removal services in Belmont, NC.
Why Our Junk Hauling in Belmont, NC?
Generally, when people have unwanted items or garbage they want to get rid of in Belmont, they rely on Belmont's trash pickup services. This is all well and good at first, but eventually, you might discover you have more things than the trash collectors are willing to pick up. When this happens, it might be time to try our junk removal services in Belmont, NC. We're ready to dedicate every square inch of our truck space to you. What's more, we don't have the same strict regulations that trash collectors do, meaning we can collect more varieties of junk, including furniture, appliances, electronics, and more!
In a world full of junk removal franchises, Junk Doctors truly shines brighter thanks to our faster results and lower prices. Our friendly crew speeds along to remove your junk in a flash. Additionally, we use a volume-based pricing scale to figure out what our customers pay. Your junk removal cost will correlate with the amount of junk we remove from your property.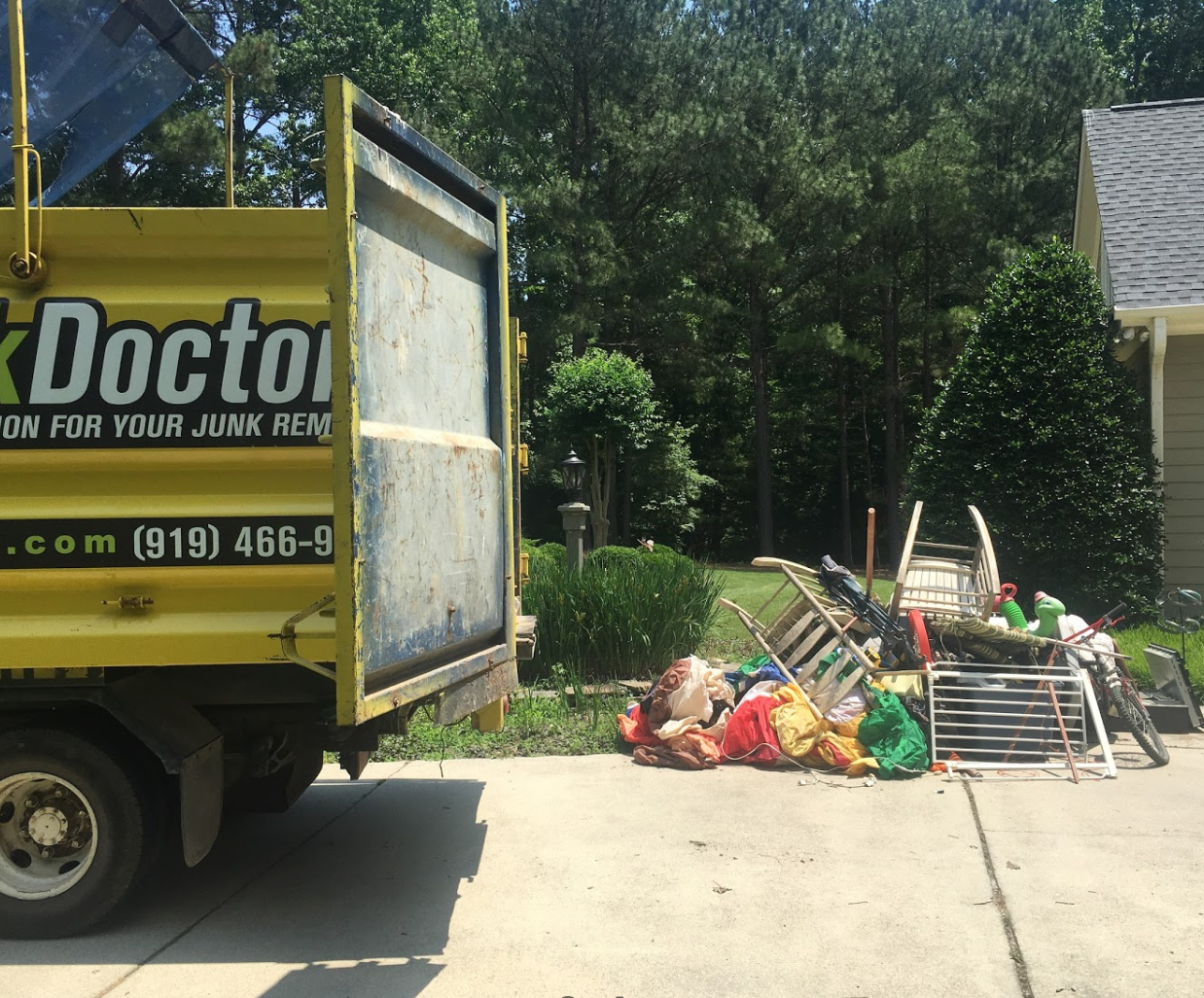 Our Belmont Junk Removal Process
When we are getting close to your location, we will give you a courtesy call. You can expect us to show up a short while afterwards.
Before anything else, we'll want to provide you with an upfront service quote. It's convenient to know what you're paying before we've even begun our work.
Since our team is full-service, you won't have to lift a finger during your appointment. You don't even have to hold the door for us. Just watch as we haul everything away.
After ensuring that we have loaded every last piece of junk into our truck, we will accept your payment and leave so we can handle the junk disposal process. Thanks for choosing Junk Doctors!
Foreclosure Clean Outs in Belmont, NC
When a mortgage can no longer be paid, a foreclosure occurs. If you're a property manager, REO manager, or bank official that is struggling to get rid of that foreclosed property, let us come to your rescue. We can empty out each and every room in the house, including the basement and the attic. We'll work quickly to remove any junk that was left behind, even heavy stuff such as entertainment centers, ovens, and refrigerators. And since we know that every day you have that house is a day you're losing time and money, we'll be sure to hook you up with a same-day or next-day appointment. Schedule our foreclosure cleanouts now to get that house ready for its next buyers!
About Us
Junk Doctors isn't your typical junk removal business. We're a locally owned junk removal powerhouse that is committed to keeping all corners of our community clean. With dozens of staff members and a whole fleet of trucks, you can count on us to serve you even if you need help on one of our busiest days. You'll be shocked at our affordable prices, too. Who knew professionalism could come this cheap?

Our Main Service Areas
So quick, efficient, professional and affordable. Within 24 hours the items we needed hauled away were gone! Second time calling and great experiences both times!

Amy Holloway
They came out and hauled off a ton of junk. They were excellent to work with and a pleasure to deal with. Very professional and prompt.

John Bradley Nosek
The guys we great! They cleaned up everything, were fairly priced, and did it all without me having to be there. I will definitely use them again.

Tawni Lynn
these guys are polite and on time. they were finished with in two hours and they cleaned the floor,we were very satisfied with the service,and will recommend them to our family and friends.

James Manuel Outing
See More