Shed Removal in Charlotte, NC
If you're tired of an old shed taking up all your yard space, then it's time to change that. Contact Junk Doctors for the professional shed removal services you need today!
Book Online Now!
Save $20*! Same and next-day appointments available!
BOOK NOW
SHED DEMOLITION AND REMOVAL
Sheds are fantastic storage spaces, but over time, you may discover that you don't have much of a reason to keep that storage space around. The desire to get rid of an old shed is only compounded if it begins to deteriorate. Is it time to reclaim your space and make that shed go away for good? If so, shed removal in Charlotte is available from Junk Doctors.
We understand getting rid of a shed isn't easy. After all, it's not like you can just lift it up and move it to the curb for city trash pickup workers to collect. Fortunately, our demolition experts can pick up the slack. We are happy to tear down sheds—and many other unwanted structures, too—in Charlotte and other nearby locations.
At Junk Doctors, we are proud to serve residents and businesses alike! If you are a regular homeowner who just wants to get rid of a shed in the backyard, we can help. If you are a business manager who has multiple sheds across the commercial property, we can take them down one after another. No matter who you are, we are committed to making you satisfied!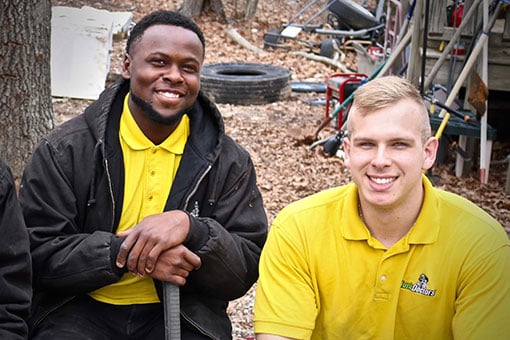 Why Our Charlotte Shed Removal?
You can't just let any old crew tear down your shed. Why? Because you want an experienced crew to make sure nothing goes wrong, and you want a crew that is covered so if something did happen to go wrong, you won't be held liable. Amateur crews fail to meet these standards because they're not always "true" businesses. For example, a team of DIY demolishers you found off Craiglist might not be insured. What this means is that if they manage to hurt themselves in the process of shed demolition, they could try to hold you responsible. Sounds like a nightmare, right? And you thought having to look at that eyesore of a shed was bad.
At Junk Doctors, we have all the insurance we need, meaning you don't have to worry about liability. Additionally, we are fully trained, and we have torn down more sheds than we can count, so the chances of something going wrong are very, very low. After all, we always exercise caution, and we never rush into a job without making an "attack plan" first. We also have all the protective equipment and tools we need to facilitate your shed removal in Charlotte! When it comes to professionalism, we're the whole package!
Not only will we tear down your unwanted shed, but we will also clean up the debris as well. Additionally, if there are any junk items stored in the shed, we can start your appointment by removing those as well. After all, we are a junk removal business first and foremost. Hauling a few extra items to our truck won't be any skin off our back!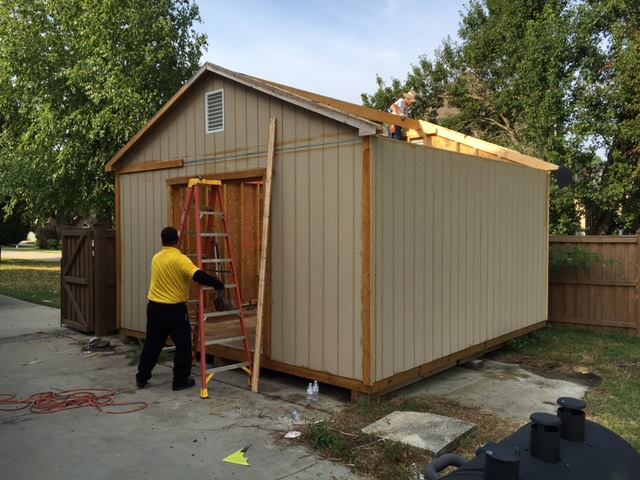 How Our Shed Removal in Charlotte Works
We don't want to catch you off guard, so when it's time for your appointment, we will give you a courtesy call. Keep your doorbell on so you know when we're heading over. We'll see you soon.
Before we start tearing anything down, we'll take a close look at your shed so we can determine the best way to tear it down. If you need us to remove any junk inside of it, we'll also do that now.
After we've figured out how to demolish your shed, we'll put that plan into action. We have the tools and the experience needed to bring your shed down without any accidents or hassles.
Finally, we will load all the shed debris onto our truck so we can dispose of it. What will you use that new yard space for? It's ultimately up to you! We're glad we could help you out.
About Us
his truck were going up, he realized if he wanted it to be worth keeping, he'd need to turn it into a source of income. This little idea was the foundation for what would ultimately become Junk Doctors. Now, we're a force to be reckoned with when it comes to junk removal and shed removal in Charlotte. It's been that way since June 2011, and we plan to keep it that way!

So quick, efficient, professional and affordable. Within 24 hours the items we needed hauled away were gone! Second time calling and great experiences both times!

Amy Holloway
They came out and hauled off a ton of junk. They were excellent to work with and a pleasure to deal with. Very professional and prompt.

John Bradley Nosek
The guys we great! They cleaned up everything, were fairly priced, and did it all without me having to be there. I will definitely use them again.

Tawni Lynn
these guys are polite and on time. they were finished with in two hours and they cleaned the floor,we were very satisfied with the service,and will recommend them to our family and friends.

James Manuel Outing
See More