Scrap Metal Removal Services
Do you need a professional scrap metal pickup? The team at Junk Doctors is happy to provide you with this service. We'll be there soon to pick up your scrap, such as steel, iron, copper, or another accepted scrap material!
Book Online Now!
Save $20*! Same and next-day appointments available!
BOOK NOW
SCRAP METAL JUNK REMOVAL NEAR YOU
If there's anything to be said about junk that is made out of metal, it's that it's extraordinarily heavy. And when that's true, chances are you'd rather do anything other than haul it around. It's like an impromptu strength training exercise that, in many cases, you didn't ask for. Fortunately, you don't have to do this work on your own. Junk Doctors provides scrap metal removal services in North Carolina so you don't have to wind up with a pair of sore arms!
Whenever one of your tear down or clean up projects results with you finding a trove of scrap metal, we'll be there soon to remove it for you. Our crew is used to heavy lifting, so it's a sure bet we can load it all into our truck in no time. We'll be out of your hair in a flash so you can get back to your day!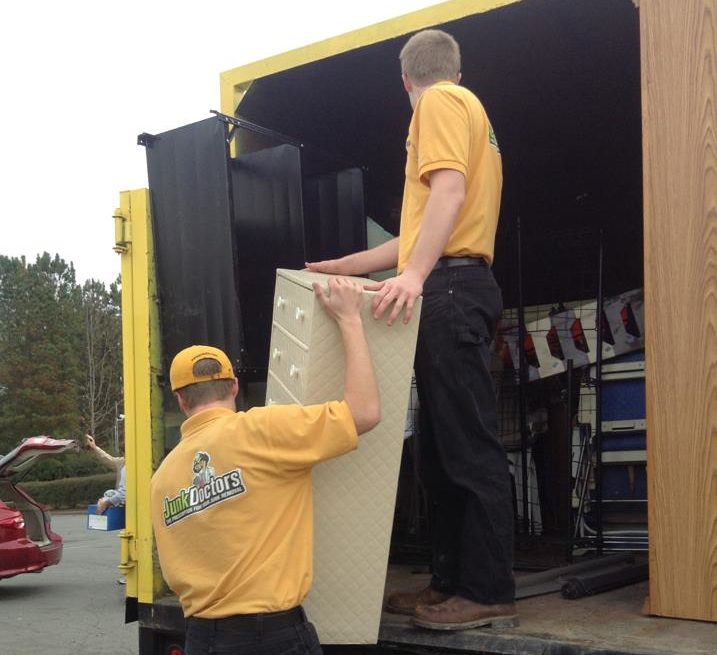 Why Our Scrap Metal Removal?
Getting rid of scrap metal is tough work, so you don't want to trust just any company with this project. It's time to reach out for professional help—the sort of professional help you can only find at Junk Doctors. If you've never worked with us before, you've probably heard of us. That's because all of North Carolina trusts us with all their junk removal needs. We're used to hauling bulky items, so needless to say we can take that scrap off your hands!
Our local haulers know how to haul away scrap in a blink of the eye! Not only do we work quickly, but we can be there as soon as today or tomorrow, too. Additionally, we also work for an affordable cost. We'll always let you know what you'll owe us from the start—no hidden fees, either.
That scrap metal isn't going to disappear from your property on its own. Fortunately, you can get the next best thing with our scrap metal removal services. So don't wait to schedule an appointment. Contact us online and you will be seeing us before you know it.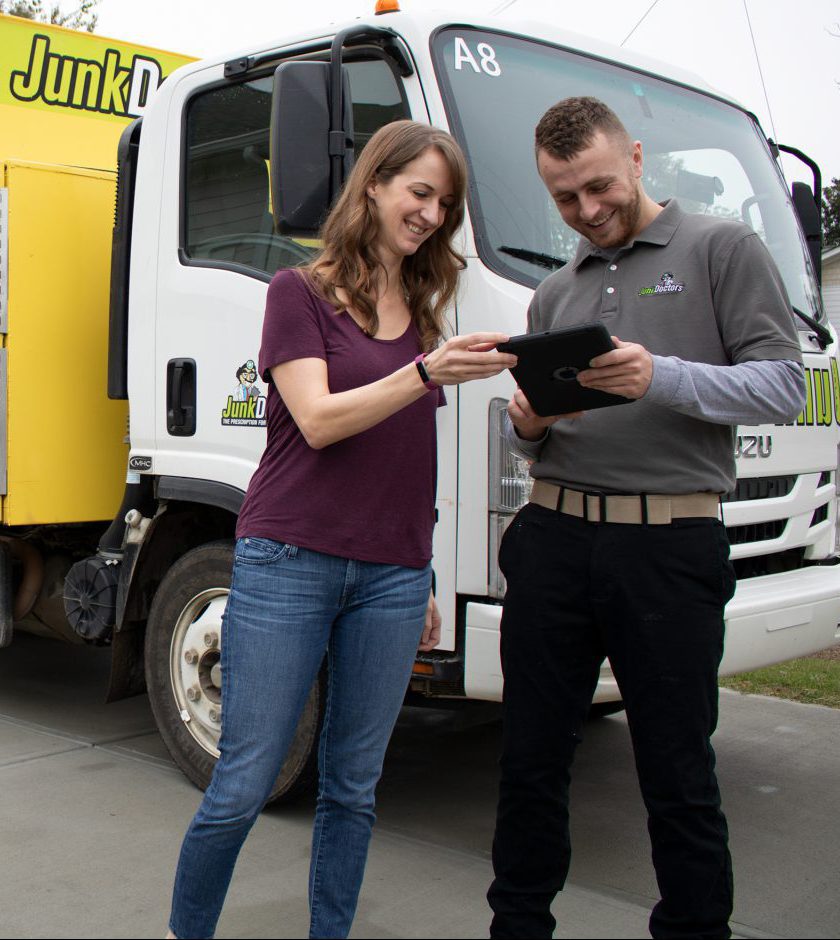 How Scrap Metal Removal Works
When we are on our way, we will give you a courtesy call. We'll arrive with enough truck space for your scrap and with a team that's ready to haul it.
Be sure to show us all the scrap that has to go, then approve our upfront service quote so our crew can start loading it up for you.
Once our truck is filled with your scrap, we will accept your payment, say farewell, and get out of your way.
Finally, we will take the scrap for recycling and disposal. Time to melt it down so it can become something new!
Scrap Metal Removal: Regulations to Note
You might think that you can scrap any sort of metal you find. However, the state of North Carolina has certain restrictions that need to be kept in mind. As a professional business, we must follow these rules, so in some cases, we may need to turn down the scrap metal you have for us. We have listed these below so you know what we won't be taking ahead of time.
Street Signs. From stop signs to street signs and even traffic lights, it's not our place to take things that belong on the roads.
Public Property. We won't be taking any sewer plates, wires, train rails, or anything that was taken from public or government property.
Burned Wires. We cannot take metallic wire that was burned to remove insulation without proof that it was burned lawfully.
Beer Kegs. Only licensed breweries and beer keg manufacturers have legal permission to scrap metal beer kegs.
About Junk Doctors
In June 2011, Lee Godbold decided he was going to leap into the junk removal industry so there would be finally be an alternative to all the national franchises. With a truck and his wits, he created Junk Doctors, a locally owned and operated junk removal powerhouse. Now, more than a decade later, Junk Doctors has snowballed its way into the position of the #1 junk hauling company in the region.
For professional service from a crew that knows all about customer service, we're the only real option! Connect with us today, tell us about your scrap metal pile up, and we'll find a good time and date for your appointment. Then, on the day of your service, you'll be greeted by a well-dressed, well-mannered team that wants to take that scrap off your hands. You won't be left with a mess for long. Instead, we'll leave you with a big, toothy grin!

Scrap Metal We Take
Electronics
Car Rims
Sheet Metal

Our Main Service Areas
So quick, efficient, professional and affordable. Within 24 hours the items we needed hauled away were gone! Second time calling and great experiences both times!

Amy Holloway
They came out and hauled off a ton of junk. They were excellent to work with and a pleasure to deal with. Very professional and prompt.

John Bradley Nosek
The guys we great! They cleaned up everything, were fairly priced, and did it all without me having to be there. I will definitely use them again.

Tawni Lynn
these guys are polite and on time. they were finished with in two hours and they cleaned the floor,we were very satisfied with the service,and will recommend them to our family and friends.

James Manuel Outing
See More