Cubicle Removal in North Carolina
With our full-service cubicle removal, cleaning out an office is easier than ever before! Call now for same-day or next-day scheduling.
Book Online Now!
Save $20*! Same and next-day appointments available!
BOOK NOW
Reliable Office Cubicle Removal in the Triangle
When you're feeling tied down over your office cleanout process, you can count on Junk Doctors to lift the weight off your shoulders! As industry experts, we get how time-consuming it can be to free up space, especially in commercial properties like offices. Not only do you have to worry about removing cubicles and furniture, but you also have to figure out the disposal of each item. That's why we're here to make it easier on you! On top of our many commercial hauling services, we also provide cubicle removal and disposal. With our expertise, we make disassembling a cubicle look easy. We make sure to bring all the proper tools needed on the job to get the job done quickly and safely!
Why Us for Cubicle Removal?
At Junk Doctors, we're a group of friendly, motivated junk removal pros that thrive on serving our central North Carolina communities. When you schedule our cubicle removal, you can expect only the best service where all your needs are considered and cared for. Our guys always arrive on time, bring the warmest attitudes, and complete the job efficiently and carefully. Even after they leave your appointment, they'll sustain the same level of responsibility by taking on eco-friendly disposal solutions! As a local company that cares, we do everything in our power to recycle and donate as much as possible.
When you choose Junk Doctors,  you won't have to worry about breaking the bank just to remove your old, unwanted cubicles. Whether you're cleaning out an entire office or downsizing, or rennovating, our cubicle removal cost remains fair across the board.  There are no excess fess that you have to pay since we are a local company. Everything that is included in our pricing takes into acocunt everything from breakdown to disposal. Give us a call to get started today!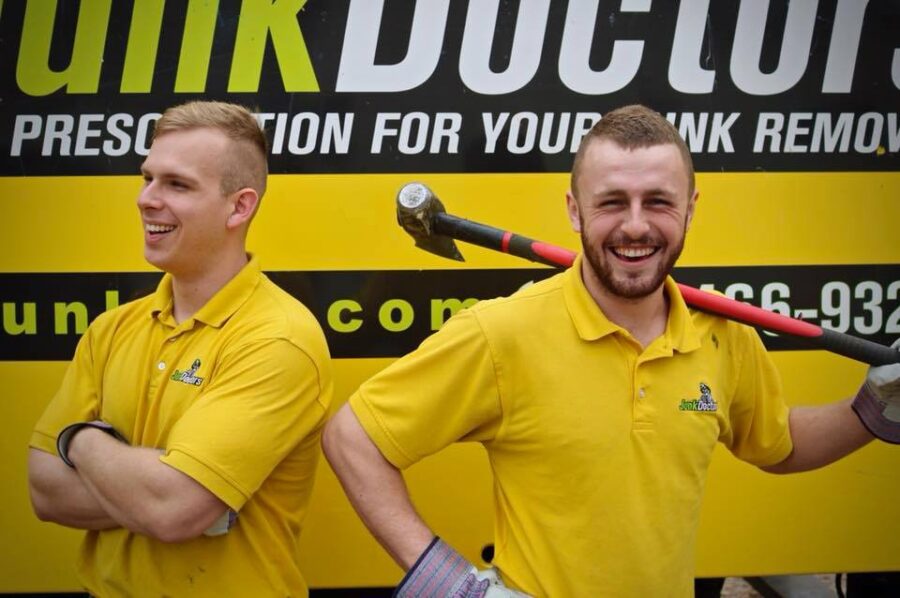 Our Cubicle Removal Process
To begin, book our cubicle removal services. You can either schedule us online or through a phone call!
When our pros are on the way to you, they'll give you a courtesy call to let you know before promptly arriving on time.
When haulers arrive, just point them to which cubicles you need removed. Then, they'll give you a fair price through a free quote!
If you choose to move forward with our price, just let haulers know so they can get started. Then, just like that, you're all finished!
Freestanding Cubicle Removal
At Junk Doctors, we have experience with disassembling various types of cubicles. If you have freestanding cubicles in your office needing removal, we'll make the process quick and simple! Before beginning your cubicle removal, however, we need your approval on our price. Once you do that though, we hit the ground running! First, we'll check and make sure all electrical wiring in your cubicles are disconnected. If there's any attached features like shelves or desks, we'll also remove those before taking down the cubicle panels. Then, we'll unscrew the panels, starting with the outer ones. In a few quick moments, your outer and middle cubicle walls will be broken down and ready for loading!
After all your unwanted cubicles are disassembled, we'll round up the panels and load them onto our truck for disposal. Before heading out, though, we'll quickly sweep up any debris left behind so that your office is spick and span. Finally, we'll locate the appropriate disposal center near you for cubicle recycling, if possible! That way, we can help reuse materials like wood and metal instead of wasting them in a dump.
About Us
At Junk Doctors, we're a locally-owned operation catering to the Triangle in North Carolina. We offer an array of diverse junk removal services that can be very hard to find elsewhere, especially at our top quality! With one of those being cubicle removal, we gladly assist business owners and property owners with full-service commercial hauling services that they can count on.
We understand that life tends to throw all sorts of surprises at you, in many cases causing you stress. Striving to ease that stress in any way that we can, we are here to take any junk off your hands when you need it! Throughout our experience, we've tackled jobs of all sizes, ranging from single item pick-ups to large cleanout and demolition services. We're not intimidated by large loads or heavy items!

Office Furniture We Take
Office Chairs
Desks
Phones
Computers
Conference Tables
Couches
Artificial Plants
Décor
Cubicles and more!

Our Main Service Areas
So quick, efficient, professional and affordable. Within 24 hours the items we needed hauled away were gone! Second time calling and great experiences both times!

Amy Holloway
They came out and hauled off a ton of junk. They were excellent to work with and a pleasure to deal with. Very professional and prompt.

John Bradley Nosek
The guys we great! They cleaned up everything, were fairly priced, and did it all without me having to be there. I will definitely use them again.

Tawni Lynn
these guys are polite and on time. they were finished with in two hours and they cleaned the floor,we were very satisfied with the service,and will recommend them to our family and friends.

James Manuel Outing
See More