Pool Table Removal Services
Getting rid of a pool table is easier than you might think. To say goodbye to it without even lifting a finger, contact Junk Doctors, the #1 company for pool table removal services near you.
Book Online Now!
Save $20*! Same and next-day appointments available!
BOOK NOW
POOL TABLE REMOVAL SERVICES IN THE TRIANGLE
An evening of playing billiards can be a blast. However, for some people, this hobby doesn't stick, and the billiards table stops seeing any use. As a result, you sacrifice your space for a large object that is more or less useless! If you've decided that pool isn't your style, but you are struggling to remove the table from your home, Junk Doctors can help. We provide pool table removal services in Charlotte, NC and everywhere else in the Research Triangle, too!
We're a junk removal and billiards moving company that is always happy to serve our neighbors. We can take not just your pool table away, but all the balls, cue sticks, chalk, and other related accessories, too. We'll be sure to provide you with a perfect customer experience, too. Junk Doctors avoids sinking the metaphorical eight-ball by staying fast, friendly, and focused!
Why Our Pool Table Removal Services?
A good pool table is sturdy and capable of holding a lot of weight. Otherwise, it wouldn't be able to withstand the force of multiple people leaning against it. However, this also means that a good pool table can be quite heavy. So heavy, in fact, that you might find yourself unable to lift it up. Heck, you might even be unable to make it budge! Need some extra muscles? You can find them at Junk Doctors, a locally owned and operated company. We'll handle all the heavy lifting so you can kick back and relax instead!
Sometimes, your pool table will be in a place that makes it particularly difficult to remove. Let's say that you have it stashed away in your basement. Obviously, it will be challenging to get it back up the stairs—unless you're the team at Junk Doctors, of course. We have plenty of workers on our team, so we'll be able to combine our strengths to whisk it up those stairs with ease. In the blink of an eye, the pool table will be off your property and in our truck.
You may be curious about our pool table removal cost. What will you pay to get rid of your pool table? Will it cost you more money than it's worth? At Junk Doctors, we strive to provide our customers with excellent prices regardless of what they want us to take. At the start of your appointment, we'll estimate the total volume of the pool table and any other unwanted accessories. Then, we'll prepare an upfront quote for you based on that. This way, you'll always know what you owe us from the get-go!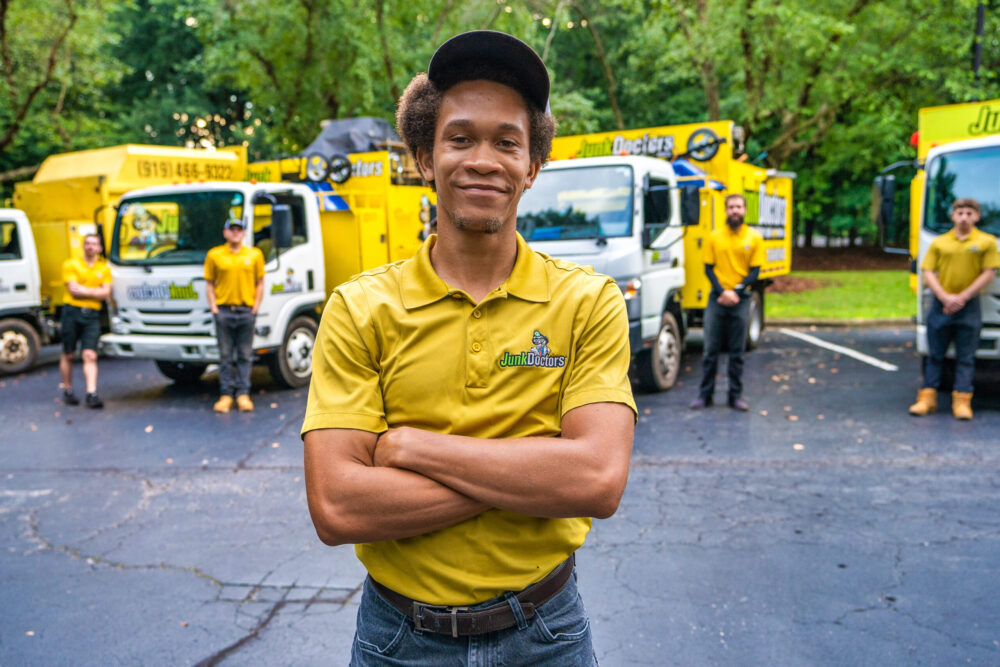 How Pool Table Removal Works
When you feel your phone buzzing in your pocket, that means Junk Doctors is on the way. It won't be long before we take that pool table off your hands.
Accept our upfront service quote, and we'll begin removing your pool table immediately. Stand clear, because we'll need space to maneuver it out your door.
On the count of three, we'll carefully hoist the pool table into our truck. With that, your pool table problem is officially out of sight and out of mind.
Before we leave, we'll need to accept your final payment. Just know that you'll pay the same amount you agreed to earlier. No hidden fees.
Removing the Furniture Surrounding Your Pool Table
You'll usually find furniture somewhere nearby the pool table. That's because, once you've finished a round of nine-ball, you're going to want to take a seat and relax for a bit. However, if you're saying goodbye to the pool table, you might be saying goodbye to the furniture as well. Whether it's a sofa, some stools, or a few chairs we're talking about, we can take them off your hands! Just as we carefully removed the pool table from your property, we'll do the same with your furniture. If your pool table and furniture are in good condition, we'll even donate them!
About Us
Junk Doctors, a locally owned and operated junk removal company, was founded by Lee Godbold so that our neighbors in the Research Triangle never have to clean up their own messes. If you have any kind of junk, you can rely on our full-service team to take it off your hands. Not only can we serve you fast, but we'll do it with friendly flair you'll only find at Junk Doctors. You can even schedule a pool table pickup today if you'd like. Claim a same-day junk removal appointment by clicking Book Now. That way, we can learn more about your pool table and be at your side in no time at all.

Our Main Service Areas
So quick, efficient, professional and affordable. Within 24 hours the items we needed hauled away were gone! Second time calling and great experiences both times!

Amy Holloway
They came out and hauled off a ton of junk. They were excellent to work with and a pleasure to deal with. Very professional and prompt.

John Bradley Nosek
The guys we great! They cleaned up everything, were fairly priced, and did it all without me having to be there. I will definitely use them again.

Tawni Lynn
these guys are polite and on time. they were finished with in two hours and they cleaned the floor,we were very satisfied with the service,and will recommend them to our family and friends.

James Manuel Outing
See More