Junk Removal in Mount Holly, NC
When your unwanted items begin piling up in Mount Holly, don't be afraid to contact the professionals at Junk Doctors for help!
Book Online Now!
Save $20*! Same and next-day appointments available!
BOOK NOW
Your Local Junk Removal Experts in Mount Holly, NC
Looking for fast, affordable junk removal in Mount Holly, NC? We've got the cure for you! Junk Doctors is a local company based in Raleigh, NC. With our expertise and professional crew, we can handle any size project in the Triangle and beyond. When you need to clean out a store, your home, or even your garage, rest assured that Junk Doctors has the proper tools and crew to help you complete the job.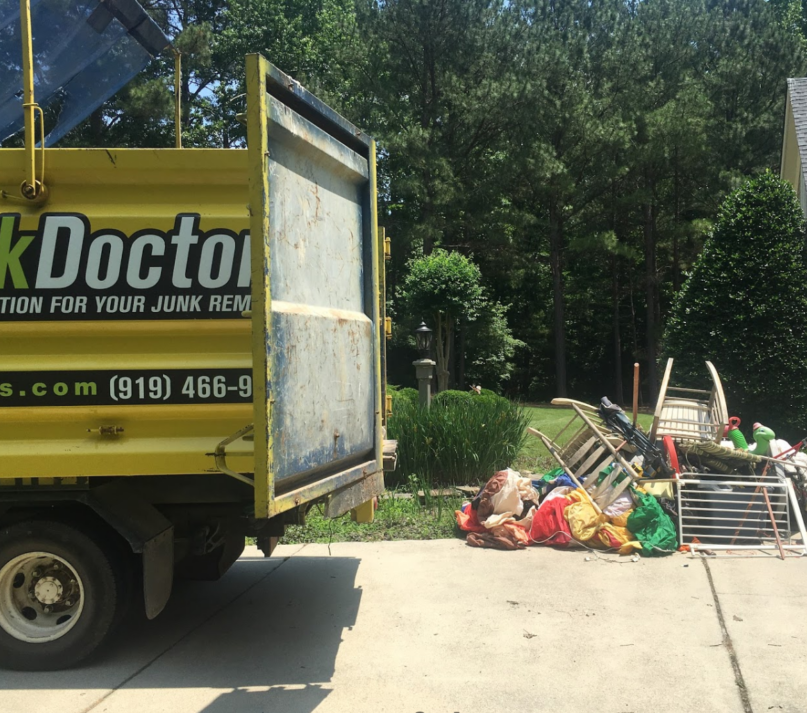 Why Our Mount Holly Junk Hauling Services?
One of the biggest advantages of choosing Junk Doctors is saving time. Not only can our experts remove junk faster than you could alone, but we outpace many other companies in the industry, too. Our team is highly experienced, and that's why they can quickly move your unwanted items to our truck, including bagged trash, recyclables, heavy furniture, electronics, and more. We can even provide you with same-day junk removal if you need!
Looking to save money and get rid of your Mount Holly junk? Junk Doctors saves the day yet again! Our junk removal prices are volume-based. This means that our customers pay an amount that scales to match the amount of junk we remove. Whether you have a small job or a big job for us in Mount Holly, we'll be happy to save you money!
How Mount Holly Junk Removal Works
Please, contact us online and let us know how we can help you! Let's agree on an appointment time and date so we can meet.
We'll arrive at the predetermined time, check out your unwanted junk, and provide you with an upfront service quote for your convenience.
While our full-service team members pick up your items and haul them to our truck, feel free to do something else in your free time.
Once we've finished our work, we'll make sure we didn't forget any junk, accept your payment, and get out of there!
Mount Holly Junk Pickup Services: What We Take
Whether you need full-service cleanouts in Mount Holly, NC or a single item picked up, the crew at Junk Doctors has you covered!
About Us
Junk Doctors, a locally owned business, is the brainchild of Lee Godbold and Christian Fowler, a duo of Research Triangle residents. They're everyday folks, just like you, and they're interested in serving other folks who are just trying to enjoy their lives. When you call us for junk removal, you'll get to take more time to enjoy what this world has to offer. We'll make sure there's no junk in the way, and we'll be sure to recycle and donate as much of it as we can. It's the best thing to do for the Earth, after all.

Our Main Service Areas
So quick, efficient, professional and affordable. Within 24 hours the items we needed hauled away were gone! Second time calling and great experiences both times!

Amy Holloway
They came out and hauled off a ton of junk. They were excellent to work with and a pleasure to deal with. Very professional and prompt.

John Bradley Nosek
The guys we great! They cleaned up everything, were fairly priced, and did it all without me having to be there. I will definitely use them again.

Tawni Lynn
these guys are polite and on time. they were finished with in two hours and they cleaned the floor,we were very satisfied with the service,and will recommend them to our family and friends.

James Manuel Outing
See More