Hot Tub Removal in Charlotte, NC
Junk Doctors has the perfect solution for your unwanted hot tub problem. It's our full-service hot tub removal in Charlotte!
Book Online Now!
Save $20*! Same and next-day appointments available!
BOOK NOW
CHARLOTTE, NC HOT TUB REMOVAL
Do you need to get rid of a hot tub in Charlotte, NC, but you don't know how to get started? Here's our suggestion: call Junk Doctors and let us do the hot tub removal in Charlotte for you!
Full-service. From demolition to debris removal, we do all the work.
Fast. We are experienced demo contractors that get the job done quickly.
Safe. We are fully insured for your safety. Choose us with confidence!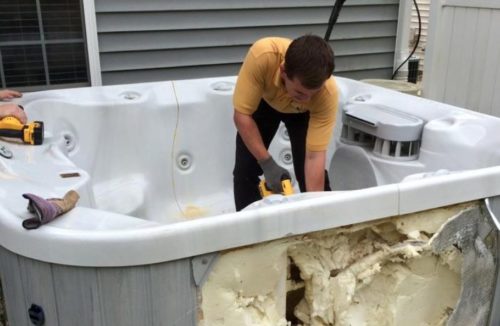 Our Hot Tub and Spa Removal Service
To get rid of a hot tub without breaking out a single tool, all you have to do is contact us. We will bring the tools, the team, and the truck you need to make that hot tub disappear.
Tub and jacuzzi removal can require specific devices such as saws, sledgehammers, and even diamond blades if concrete is a problem. Don't worry. We are fully equipped and prepared to serve you.
All we ask is that you drain and disconnect the hot tub before we arrive. This will facilitate the hot tub removal process. We will handle all the rest of the work from that point onward.
We will make quick work of your hot tub and may even slice it into several, more manageable pieces if deemed appropriate. All the resulting debris will be loaded onto our truck.
We also handle the disposal process because we're sure you don't want to visit one of Charlotte's landfills. Once we're gone, you're all done, so enjoy the rest of your day!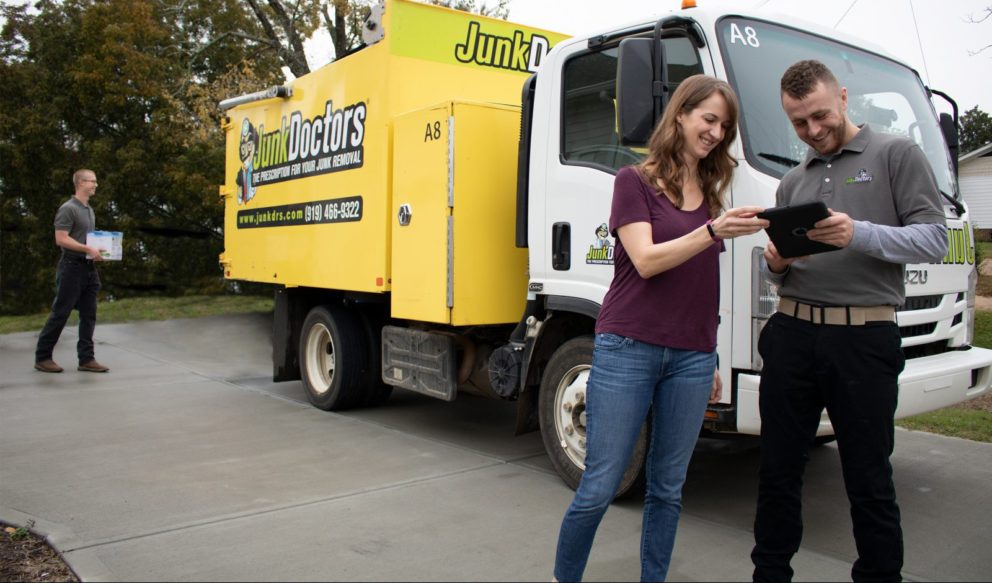 Hot Tub Removal Cost
Removing a hot tub doesn't have to remove all the money from your wallet, too. At Junk Doctors, we are proud to offer prices that are more than affordable to our clients.
Upfront quote. At the beginning of your appointment, we'll figure out how much you'll owe us and provide that price to you as a firm, no-obligations quote.
No hidden fees. Approve our quote, and you'll "lock in" our asking price. What this means is that you'll never pay more than the quoted amount.
Payment options. Once we've finished removing your hot tub, we will anticipate your payment. Please have either cash, a card, or a check ready for us.
Hot Tub Removal
We are always happy to remove hot tubs, spas, and jacuzzis from our clients' properties. Lead us to them, then we'll make short work of them for you.
Playset Removal
If the kids have moved out and no longer need their old play structures, then you can probably get rid of them if you'd like. Let us help!

We Also Demolish…
Treehouses
Doghouses
Composters
How Charlotte Hot Tub Removal Works

BOOK NOW
Contact Junk Doctors of Charlotte to get started on your hot tub removal! You can either contact us online or call us at 704-659-1482.

GET A QUOTE
We will be happy to provide you with an upfront quote at the beginning of your appointment. Like what you're hearing? Then let us know, and we'll get started.

TUB REMOVAL
It won't take us long to remove your hot tub. We will demolish it and haul away the debris, leaving you with brand-new yard space to use.
So quick, efficient, professional and affordable. Within 24 hours the items we needed hauled away were gone! Second time calling and great experiences both times!

Amy Holloway
They came out and hauled off a ton of junk. They were excellent to work with and a pleasure to deal with. Very professional and prompt.

John Bradley Nosek
The guys we great! They cleaned up everything, were fairly priced, and did it all without me having to be there. I will definitely use them again.

Tawni Lynn
these guys are polite and on time. they were finished with in two hours and they cleaned the floor,we were very satisfied with the service,and will recommend them to our family and friends.

James Manuel Outing
See More
Before/After Photos
×

Our Service Areas
We serve many more locations near Charlotte! Some of these include: