Exercise Equipment Removal
Junk Doctors is here to do the heavy lifting! Our exercise equipment removal in North Carolina is fast, affordable, and best of all, it's available now.
Book Online Now!
Save $20*! Same and next-day appointments available!
BOOK NOW
EXERCISE AND GYM EQUIPMENT REMOVAL
It's good to stay in shape, and exercise equipment makes it easy to get fit. However, you'll sometimes find that old equipment isn't fit for the job. That's because, just like everything else, gym equipment breaks down over time. It's incredibly space-consuming, too, so if you're not using it, why bother keeping it around? If you need treadmill removal or some other kind of exercise equipment removal, it's time to contact Junk Doctors for the fast help you need!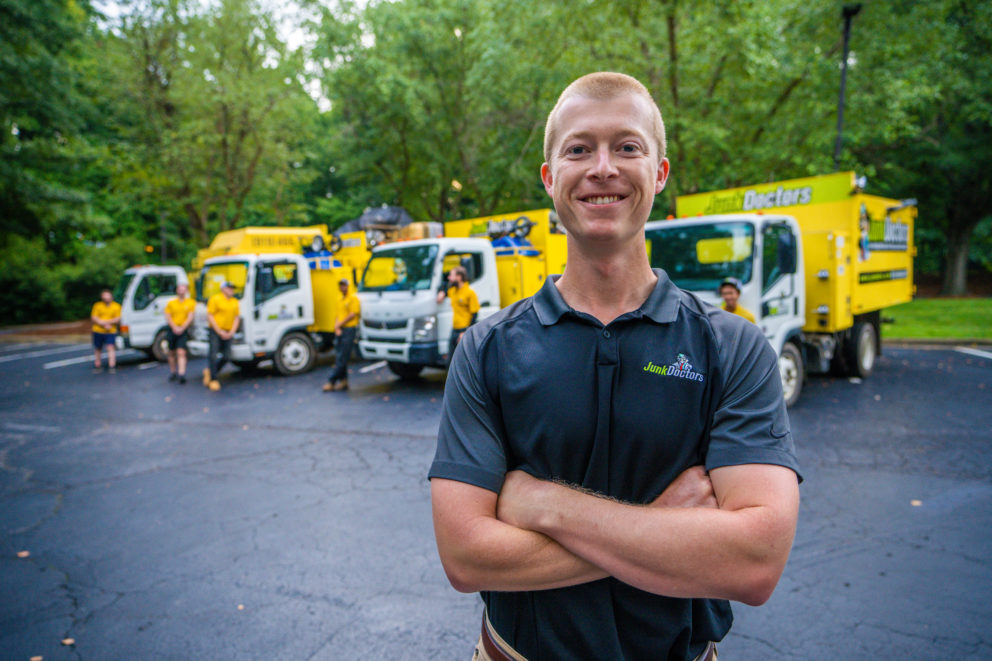 Why Junk Doctors?
If you need exercise equipment removal in North Carolina, then Junk Doctors is the best company that can serve you! We began in Charlotte, NC, but we now provide service to the entire Research Triangle and beyond. We are pioneers in the local junk removal industry, and when you choose us, you're choosing a professional company that has been serving the community for years. We're going to serve you for years to come, too, because our neighbors can't get enough of our friendly faces, our fast service, and our affordable prices.
Speaking of affordable prices, did you know our treadmill haul away rates are fair because they're based on volume? For example, our treadmill removal cost isn't so high because a treadmill only takes up a certain amount of space in our truck. We don't charge our customers hidden fees, either. That's because we want the best for both you and your wallet! Get rid of treadmills, ellipticals, weights, and more with Junk Doctors, and you'll have savings to spare.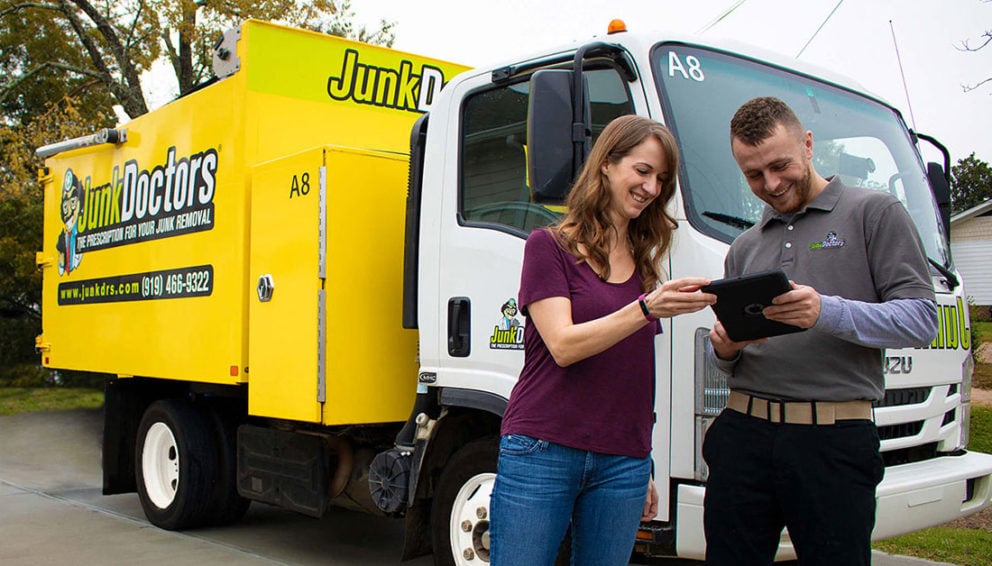 How It Works
Every appointment begins with our friendly crew showing up right on time. Expect us to be there within the 2-hour arrival window. We'll call you when we're close!
Once our team has gotten out of the truck, let them know about the exercise equipment that you need to get rid of. Then, accept our upfront service quote, and we'll begin our work.
Hauling away exercise equipment is no problem for our team because they are strong, experienced junk haulers. It won't be long before everything is in the back of our truck!
Finally, we'll head out of there after accepting your payment. Now that you've reclaimed your space from your exercise equipment, it's time for you to use it for something new!
About Us
Junk Doctors was founded in June 2011 by Lee Godbold, a man who wanted to change how junk removal worked in his hometown of Apex, NC. The way he saw it, the franchise junk removal businesses operated by the books, even when it meant worse service. That's why he created Junk Doctors, a business that works in a way that's custom-tailored to the Research Triangle community. Now, we've been in the business for over a decade, and we're looking forward to keeping this good thing going. Book an appointment with us to see what makes us so special for yourself!

Exercise Equipment We Take
Treadmills
Ellipticals
Standing Bikes
Barbells
Strength Machines
Rowing Machines
Exercise Mats
Stretch Weights
Medicine Balls

So quick, efficient, professional and affordable. Within 24 hours the items we needed hauled away were gone! Second time calling and great experiences both times!

Amy Holloway
They came out and hauled off a ton of junk. They were excellent to work with and a pleasure to deal with. Very professional and prompt.

John Bradley Nosek
The guys we great! They cleaned up everything, were fairly priced, and did it all without me having to be there. I will definitely use them again.

Tawni Lynn
these guys are polite and on time. they were finished with in two hours and they cleaned the floor,we were very satisfied with the service,and will recommend them to our family and friends.

James Manuel Outing
See More