Have you finally decided it is time to purge your home of junk? Then Junk Removal Charlotte by Junk Doctors is here for you. It is amazing how items add up over the course of time? Have you simply stored old furniture, electronics, and other general items once they have been replaced? You do that a little at a time and all of a sudden you can be overwhelmed with discarded items! Junk Doctors is here for those of you who have allowed a bunch of stuff to accumulate or those of you who only have a few items you are looking to get rid of. We also remove construction debris, yard waste, moving boxes, and more. If you are ready to get rid all of that excess stuff Junk Doctors is here to help. We provide full-service junk cleanout/removal for homes and business in Charlotte and the surrounding areas. We can normally get rid of 10 years or more of stuff in the matter of an hour or two.
Junk Removal Charlotte NC
Anytime you pick a Charlotte junk removal company, you're selecting more than a trash pickup. Removing junk is all about reputation, quality, and reliability. Junk Doctors knows the key to any local business's survival is to maintain a great reputation. We have instilled an obsession over reputation into the culture of our company. It is our goal to strengthen our reputation every time we come in contact with a customer, starting at the initial booking and continuing through the follow-up call you will receive after your job.
Getting rid of that junk is normally something that most people could do themselves. However, who wants to take up a huge chunk of their weekend, risk damaging their property, or possibly injure themselves when there is an easier option? Junk Doctors provides two strong, trained, and professional team members to go all throughout your home to remove your rubbish. The team is equipped with the tools to do the job right. The end result is your junk is cleaned out in a fraction of the time that you could do it yourself and you haven't even broken a sweat!
Learn more about our Mecklenburg County Junk Removers Service
How Does the Junk Removal Charlotte Process Work?
We're proud to supply the rubbish removal procedure that is simplest within the industry.
You'll be able to guesstimate your cost/load size on our Junk Removal Charlotte Pricing page.
You can then schedule online or give us a call. We will need some basic information to get a two-hour arrival window scheduled for you.
Our team will call you when they are 30 minutes from arriving on your pickup day.
Once we arrive our team will ask you to show them everything you have that is being removed. We will provide you with a firm price. If you give us the go-ahead to proceed we will then load your junk.
At the conclusion of the job, you can settle up by cash, credit card, or check. We will then take your stuff off to be recycled, donated, or disposed of.
Learn more about what happens when you contract the Junk Doctors to clean out your stuff!
Check out our Junk Removal Charlotte prices
What Sort of Junk Can I Dispose of?
Furniture Removal
Appliances Recycling
Landscape waste
Electronics
General Household Accumulation
Deck boards demolition and removal waste
Shingles
Cardboard
Computer Recycling
Tires
Large Screen TV Removal
Home Clean Outs
Property foreclosure clean out
Carpeting Removals
Moving Cleanups
And more…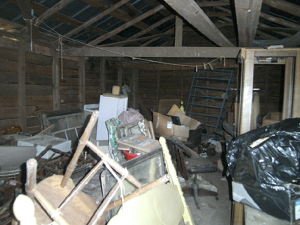 There are some items that we are not allowed to transport due to local regulations. Those items that we cannot take are considered to be hazardous waste. Common items are paint, motor oil antifreeze, gasoline, etc. Mecklenburg County has partnered with Eco-Flo to provide several locations for residents to drop off hazardous materials to be safely disposed of. Search Google for "Charlotte NC Household Hazardous Waste Disposal" for locations.
Which is better? Dumpster Rental or Junk Removal Charlotte
If you are looking to do a one time purge of general household junk, electronics, exercise equipment, moving boxes, etc. then junk removal is normally the way to go. Since it is full service the process is much quicker. You don't have to schedule a time for the dumpster to be dropped off and picked back up. With junk clean out/removal everything happens all at once. All labor is also included with a junk hauling service compared to a dumpster rental service. Another advantage is the fact that Junk Drs is sorting through your items so we can donate and recycle as much as possible. The dumpster rental companies in the Charlotte area do not offer that service. Dumpsters cannot accept electronics and nothing is donated. Anything that goes in a dumpster is going to either a landfill or a transfer station.
Dumpster rental is a good option for a home renovation that will take several weeks. A dumpster can be dropped off and you can fill it as you go. When it is full you would simply call the company to come out to pick up the dumpster. That is normally when a dumpster rental is a good option.
Junk Removal Charlotte does remove construction debris as well. If you do not have space to put a dumpster you can pile the stuff in the backyard. Junk Doctors can go into your backyard, bring the items to the front, and remove them for you.
One circumstance that is always difficult to deal with for many reasons is when you lose a loved one. Junk Doctors does four or five estate clean outs every month. Cleaning out an estate is normally a very overwhelming job not only for the work involved but the emotions that are experienced as well. The estate needs to be sorted through so you can find items that you would like to auction, confidential items that need to be shredded, and other items that you would like to keep for sentimental reasons. Junk Removal Charlotte is able to assist you with all of this. When you hire us for an estate clean out we can assist you with sorting through your items and then remove items you would like to get rid of. This is priced with a combination of our general labor rates as well as our junk removal Charlotte rates. Call for details on how to price these jobs.
Sometimes when cleaning out an estate in order to save money, or give you extra time, it might make sense to go with a dumpster. A dumpster will allow you the time to sort through everything without having to pay an hourly rate for our team members. However, it makes the task that much more difficult with you having to do all the labor yourself.
No matter what type of project you have if you have any questions on the best way to go about it then feel free to give Junk Removal Charlotte a call. Even if you do not hire us we are more than willing to provide you with information to make your job easier.
What happens to most of the stuff you are hauling?
Junk Removal Charlotte tries hard to recycle and donate as much of the stuff from your Junk Removal Charlotte project as possible. Any larger items such as couches, dressers, beds, etc. can be easily spotted by our guys for donation. If they are in good enough shape to be donated we will take them to a donation center on your behalf. If you have any items that are smaller you would like donated you would need to have them boxed before we arrive and labeled "donation".
Very efficient and friendly. I am so glad my storage room is now clean!

Maryann Bateman

Excellent service. Easy on-line scheduling, arrived on time and took all the junk

Mike Tunney

Excellent service. Workers were prompt (actually had to wait for me) and finished the job in a short time. Reasonable price. I will certainly use these folks again.

Hunt Wofford

They were on time and very quick. They removed every piece of debris I had in my back yard.Reasonably priced. I will use them again if needed.

Jayden baker

Fantastic, arrived earlier than they said, didn't surcharge me for the large projection removal because I put it in the street. Class acts, would absolutely use again.

Derek Farley

My experience with JunkDoctors was very good. They came early, did the job in a timely manner and cleaned up completely. Would recommend them and will use them again in the future

Steve Purk
Save $20
when you book online