Construction Debris Removal In Raleigh NC
How to Get Rid of Construction Debris in Raleigh, NC
Construction debris removal in the Raleigh area can be done in several different ways. If you've gone out and tackled a DIY project and have some debris to get rid of, you have a few different choices. For starters, you can choose to remove junk and construction debris yourself. You could rent a dumpster and add stuff as you complete your project and generate debris. Or you could hire a full-service junk and debris removal company like Junk Doctors. Let's talk about the pros and cons of each method.
Do-It-Yourself Construction Debris Removal
Option number one would be to do it on your own. This is going to be the most time consuming and complicated choice unless you happen to have a pickup truck and trailer. If you have a pickup truck and trailer, there is a good chance you aren't reading this post on junk removal and construction debris removal for the Raleigh area.
So we are gonna go with the assumption that you don't have one. So the first thing you would need to do is either rent a moving truck, truck, and trailer or borrow a friend's. If you don't have friends with trucks then you can go to Home Depot and rent a pickup truck and trailer there. Those are often your best option for construction debris removal. It is much easier to load construction debris from the Raleigh area in a trailer than a moving van. With a moving van, everything has to be loaded from the rear.
If you go with an open-top trailer, the construction debris can be loaded from the top and sides as well. This makes loading much easier, as the staff won't get tangled together as much and you won't have to try to stuff it into an enclosed space.
Renting and Loading a Truck and Trailer for Construction Debris Removal
Home Depot rents 5×8 open top trailers and they have pretty good availability in Raleigh and the surrounding areas. You can view their availability here:
https://www.homedepot.com/tool-truck-rental/Channel-Frame-Trailer-5×8/UTL5008HDR/index.html
When loading your trailer with construction debris, you will want to make sure you have ratchet straps or some kind of tarp system to secure the construction debris. Raleigh and Wake County have laws that carry a hefty penalty for loads that come undone and litter that gets on the road. Penalties for littering can exceed $1,000 per occurrence. Make sure to properly secure your load with ratchet straps. Ratchet straps for your trailer to contain your debris can be found here:
https://www.homedepot.com/p/Stalwart-10-ft-x-6-in-Ratchet-Tie-Down-Straps-4-Pack-M600018/301431288
Junk and debris from junk removal and construction debris removal in the Raleigh area can be very heavy. You will want to make sure that you load the trailer properly. Ideally, you should place the heaviest part of the load just forward of the tires on the trailer. That will keep the weight on the tongue. You certainly do not want to have too much weight from the construction debris removal on the back of the trailer because that can cause the trailer to pick up on the rear of the truck.
Removing Construction Debris
If you've ever seen a trailer veering left and right as you were driving down the highway, that is normally caused by an improperly loaded trailer. Most of the time, it results from too much weight being placed on the rear of the trailer, but too much weight towards the front could cause issues as well. These are serious concerns – an imbalanced load can cause you to lose control of your trailer and vehicle, resulting in a dangerous accident.
When removing construction debris with a rented truck and trailer, you need to make sure you set the trailer brakes properly. There will be a trailer to gain control inside the truck. You'll need more gain when the trailer is loaded than when you picked it up empty. When you first start driving, test out the brakes and adjust the setting until the trailer brakes evenly with the truck. Do some hard braking and make sure the tires on the trailer don't lock up under duress. Once you have the gain set properly, go ahead and proceed to the dump.
Removing Construction Debris
Raleigh has what they call "Citizens' Convenience Centers" where area residents can take their junk removal and construction debris removal trash to drop off. Don't let the name fool you. These places are a dump! However, they are very well run. Some of the sites do not take construction debris, so make sure you choose one that does. You can view items each site accepts here:
https://www.wakegov.com/recycling/division/facilities/Pages/cc.aspx
You will make life a heck of a lot easier on yourself if you load the junk removal and construction debris removal items properly. Group the stuff together by category and type. Any metal you have should be grouped and loaded together. Any wood removal, drywall removal, shingle removal, tile removal, or other construction debris should be grouped together. And should you also have some couch removal, furniture removal, electronic removal, or other junk removal items, this kind of household debris should be grouped together. That way, when you arrive on-site you can stop at each one of the dumpsters (each holds a specific type of material) and place each kind of debris in the appropriate dumpster. Once you're done with that one dumpster, you can move on to the next. Otherwise, you will be wearing yourself out walking from one area to the next. You will irritate the attendant that works there because of how long you're taking. You never want to irritate the attendant. They can make life really tough for you!
Accepted Construction Material in Raleigh NC
The type of construction material that goes in the construction debris removal dumpsters at these convenience centers are as follows:
Deck board removal from Raleigh

Shingle removal from Raleigh

Drywall removal from Raleigh

Tile removal from Raleigh

Window removal from Raleigh

Hot Tub removal from Raleigh

And more!
Basically, any debris that has anything to do with construction debris goes in the construction debris bin. And you must be a resident of Wake County to take your construction debris and junk removal to these sites!
Trash Removal Services
If you are going to use a trailer to haul the trash removal debris on your own, make sure it is a single axle trailer. That means that there are only two wheels on the trailer. Two and three-axle trailers are not available at these dumpsites. The attendant will not allow you to dump at a convenience site with those trailers. There is nothing worse than loading up a trailer, going to one of these convenience centers, and someone rejects it.
If the only trailer you have access to is a larger dual or triple axle trailer, you will need to go to a construction debris landfill or transfer station. These are the same sites that Junk Doctors use to dispose of construction debris. There are locations in Apex and Raleigh. You will want to go to whichever site is closer to your home. Understand that you will have to pay to use these sites based on the weight of the stuff in your truck or trailer. While the convenience centers are free, you will have to pay to use these landfills. They tend to charge around $40 per ton to dump.
Dumpster Rental for Construction Debris Removal in Raleigh
Your next option for junk removal and construction debris removal in the Raleigh area is to rent a dumpster. Even though we here at Junk Doctors are a junk removal company, we will gladly admit there are times when a dumpster makes more sense. A dumpster makes good sense if you are going to have a significant amount of debris and you will have to take the stuff outside as you work anyway. For example, if your only option is to move the construction debris out of your home as you generate it, it isn't much harder just to walk it out to the dumpster. Dumpsters also make it easier to work continuously on an ongoing project or sort through junk than a junk removal company. Since a full-service junk removal company in the Raleigh area provides labor, you want to keep our guys busy the whole time. Otherwise, you will have to pay extra for labor because we have to pay those guys as well. So if you are sorting stuff, a dumpster is often the way to go.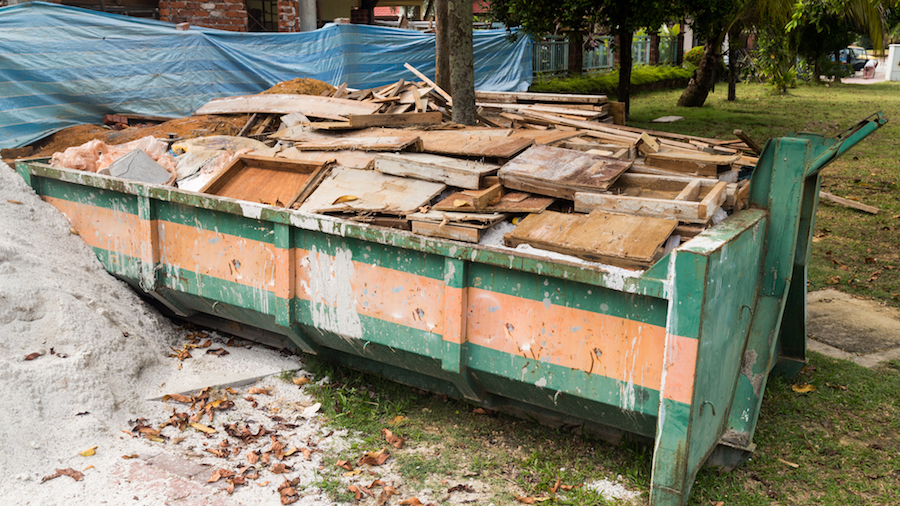 Renting A Dumpster
Dumpsters can vary significantly in price. Most of them charge a rate per day or week and include a certain amount of weight. If you exceed that amount of weight, they will charge more. They will often charge a drop-off fee as well. Be careful what you place inside these dumpsters too. Often times, they are only for construction debris OR household items and not both. Many companies don't want you mixing the stuff. Under almost no circumstances will they accept electronics, appliances, debris from refrigerator removal, and things like that. Those items should be removed by a full-service company like Junk Doctors or on your own.
We do recommend a couple of companies in the Raleigh area should you want to rent a dumpster. Those companies are NC Dumpster and Bin There Dump That. Bin There Dump That works great if you are looking to rent a smaller container. NC Dumpster can get you containers up to 30 cubic yards in size and have been a great partner for us for our large deconstruction projects. When we do a large deconstruction project, we often bring in a large container to reduce the number of trips to the landfill and the time required to complete the Raleigh construction debris removal job.
Raleigh Construction Debris Removal
The final option – and the one we obviously recommend, though we might be biased – is a full-service junk removal company like Junk Doctors. Junk Doctors junk hauling has been in business since 2012 and employs friendly people who do awesome work. Our team can do your junk removal or construction debris project for you Monday through Saturday. So, find a time that works for you and we will be right out.
In addition, we can also help you out with the deconstruction itself. For example, if you want to remove your old deck, we can take care of the entire process for you, from tear-down to dumping. That's right. For just a few hundred dollars more, depending on the size of your deck, we can do it all. Also, there is no reason for you to labor away taking down that old deck wood only to call us and pay us several hundred to haul the wood off. Let us do the whole project for you!
Once we have loaded our trucks up we will sweep and rake the area to ensure we leave almost no debris. The job will be complete when we leave. Though each of the options presented certainly has its pros and cons, the junk removal option tends to be the safest, fastest, and most practical for the majority of people.