Retail Cleanout Services
When you have junk taking up space at your retail establishment, don't bite off more than you can chew. Instead of settling for do-it-yourself junk removal, contact the commercial junk removal experts at Junk Doctors instead. We'll be happy to help you.
Book Online Now!
Save $20*! Same and next-day appointments available!
BOOK NOW
RETAIL CLEANOUT SERVICES IN THE RESEARCH TRIANGLE
Cleaning a store isn't a walk in the park. You have to take time away from other important aspects of your business, such as managing finances and employees, and use it to haul junk instead. What kinds of junk? Anything you might find in your store, including old shelves, store fixtures, expired merchandise, packaging waste, and more! It can be a lot of work, so make sure you're not the one who has to do it. Instead, contact Junk Doctors, a local business from Charlotte, NC, and schedule our retail cleanout services instead.
When you have any sort of commercial junk, we can take it off your hands fast. Not only that, but we can sweep up behind ourselves and leave your retail space looking squeaky-clean, too. It's a great way to earn some extra visual appeal, and your customers will love it. Of course, if you're planning on closing up shop, we help by getting the job done as soon as possible.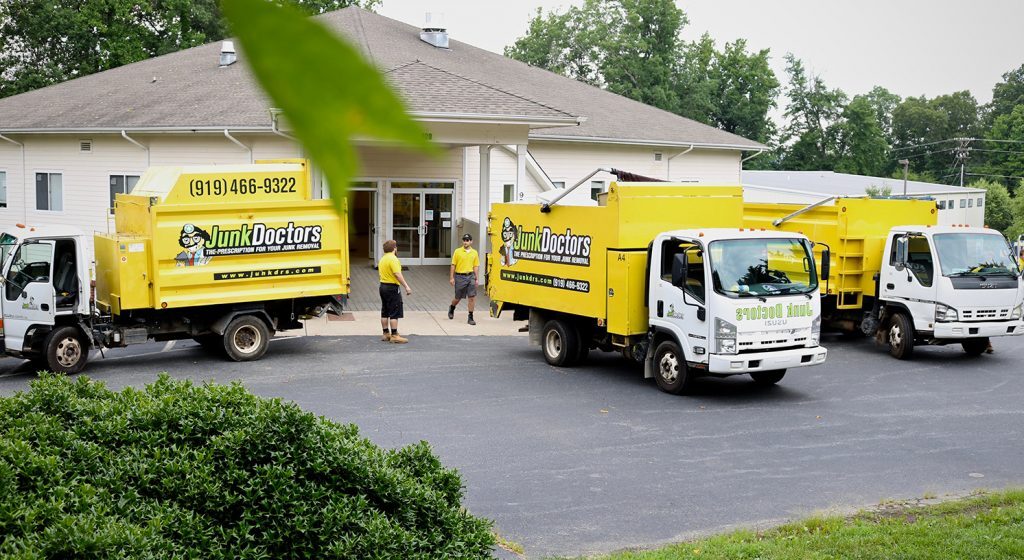 Why Our Shop Cleanup?
Cleaning retail stores is one of our many specialties here at Junk Doctors. (Can they really be called specialties if we have so many of them? The point is, we're masters at anything related to junk removal.) We've provided many commercial cleanouts to our community throughout the years, including retail cleanouts. In other words, when you choose us, you're choosing a team that's experienced with this sort of work. You can count on us to haul away every last shelf, rack, and piece of merchandise or our name isn't Junk Doctors!
The amount that you pay for your retail cleanout is simple and always determined at the beginning of your appointment. The first thing we'll do is check out how much junk you have for us to remove. Then, we'll determine the total amount of truck space it will use up. Finally, we'll provide you with a volume-based quote that matches what we're seeing. You will never overpay, and you will never have to deal with unfair hidden fees, either.
We understand that, in some cases, it's urgent that you receive retail cleaning services sooner rather than later. It could be that you are reopening for business soon and want to wow your customers. You might even need help packing everything up and moving across town. Whatever the reason for the urgency, we can make you satisfied. Contact us today, and you can claim a same-day or next-day appointment! It's as easy as clicking Book Now and filling out our online contact form.
How Retail Cleanouts Work
When you schedule your appointment, let us know where your retail space is located, when we need to be there, and what sorts of junk we can expect to haul.
Upon our arrival, we'll check out the junk and provide you with an upfront service quote. After you approve this quote, our team will start hauling away retail junk on the double.
We won't leave a single corner of your retail space cluttered. At Junk Doctors, we pay extra attention to the details, ensuring that we don't leave any junk behind. We also sweep up behind ourselves.
Once our work is complete and all the retail junk has been loaded onto our truck, we'll accept your final payment, bid you adieu, and head off to a nearby disposal site.
Removing Retail Furniture from Your Store
Not all retail junk is created equal. Some of your unwanted items will inevitably be heavier than others, and perhaps one of the most notable examples of heavy junk is furniture. At Junk Doctors, we have removed our fair share of retail furniture. It's not exclusive to furniture stores, either. You can find benches at shoe stores, counters at any place with a cash register, and don't forget the break room tables and chairs! Fortunately, you will never be responsible for removing that furniture as long as we have anything to say about it. Point to your unwanted furniture, and we'll have our team members lift it up on both sides. Then, we'll haul it out your door, keeping our grip firm and never dropping it along the way!
About Us
Junk Doctors was founded by Lee Godbold so that people across the Research Triangle could take some time to relax instead of worrying about their junk. In addition to our retail cleanout services, we offer many additional services so that anyone in any situation can get rid of their clutter fast. We'll be happy to remove it for you, as evidenced by the smiles on our faces. We'll even go the extra mile to dispose of your unwanted things in an eco-friendly fashion. For example, all your gently used belongings will be donated to our local Habitat for Humanity ReStore.

Our Main Service Areas
So quick, efficient, professional and affordable. Within 24 hours the items we needed hauled away were gone! Second time calling and great experiences both times!

Amy Holloway
They came out and hauled off a ton of junk. They were excellent to work with and a pleasure to deal with. Very professional and prompt.

John Bradley Nosek
The guys we great! They cleaned up everything, were fairly priced, and did it all without me having to be there. I will definitely use them again.

Tawni Lynn
these guys are polite and on time. they were finished with in two hours and they cleaned the floor,we were very satisfied with the service,and will recommend them to our family and friends.

James Manuel Outing
See More