Your Options for Bulk Trash Pickup in Charlotte, NC – Everything You Need to Know
Where Can You Get Rid of Trash in Charlotte?
Charlotte, NC is a busy city, and within it are even busier people. We have families to take care of, jobs to do, and sometimes even businesses to run. This is the reality of our day-to-day life, and this reality often results in a gradual buildup of trash over time. On many occasions, trash can become overwhelming. Whether it's taken over our basement or garage, scattered around a construction site, or creating a disturbance at a warehouse or an office, nobody wants to hold on to that garbage for long. However, it may not be immediately clear where you can get bulk trash pickup in Charlotte, NC. What are your options? Junk Doctors has the answers.
Public Trash Pickup
Of course, the city of Charlotte provides its denizens with public trash pickup through their Solid Waste Services. All you have to do is put your garbage out on your scheduled collection day, provided that your area is serviced and that you have signed up for pickup. This is generally a good option for getting rid of normal quantities of household trash. However, when you want to get rid of bulk amounts of trash, there are additional restrictions and rules you should be aware of.
When you need bulky waste collection, you will need to schedule it with Solid Waste Services. Putting bulky waste out on the curb any regular day will end up with disappointment as the city's sanitation workers may be forced to skip over you entirely. What does the city qualify as bulky waste? According to their website, "items too large to be placed in a rollout cart". These include items such as the following:
Of course, anything that doesn't fit in the collection bin is bulky waste, including large quantities of smaller items. However, just because the city agrees to pick up your bulk waste doesn't mean you're completely off the hook. It's still your responsibility to bring the waste out to the curb. When dealing with as much garbage as you are, this process can be strenuous at best and impossible at worst. Don't be afraid to ask a friend or family member for help with an item that's too difficult to move alone.
DIY Disposal
Another option for bulk trash pickup in Charlotte is relying on yourself (and whoever else in your circle you can wrangle up as helpers). If you're not afraid of doing some physical labor and you have a vehicle you can load your trash into, then nothing is stopping you from disposing of the trash on your own. Get started by gathering all the garbage and loading it into the vehicle. Remember, if your vehicle isn't cut out for the job, you can always rent one. Then, bring all the trash to an applicable disposal site. Some of your options include the following:
Mecklenburg County's Full-Service Drop-Off Centers. Mecklenburg County offers four different locations for the convenient unloading and disposal of household garbage items. Bring a debit or credit card for payment, and be aware that explosive, ammunition, or radioactive items will be rejected.
Queen City Transfer Station. This landfill is available for residential and commercial use alike. Plus, it's also open at 6:00 AM every day but Sunday, meaning you can skip the line by showing up early. Ditch your bulk trash fast, then get out and spend your day like you normally would.
We have another blog dedicated to other disposal options for do-it-yourself junk removal, and you can see more of these options by clicking here.
Junk Removal Companies
When you don't want to load up any vehicles, visit any disposal sites, or even haul any bulk trash to the curb, what options do you have left? If you want someone else to do all the work for you, then your remaining choice is a junk removal business. As it turns out, there are many professional junk removal businesses in the Charlotte, NC area, too, including us, Junk Doctors. What companies like us do is send out a crew to collect your junk and garbage for you. Additionally, they bring a truck that they can load up so they can handle the disposal process for you, too.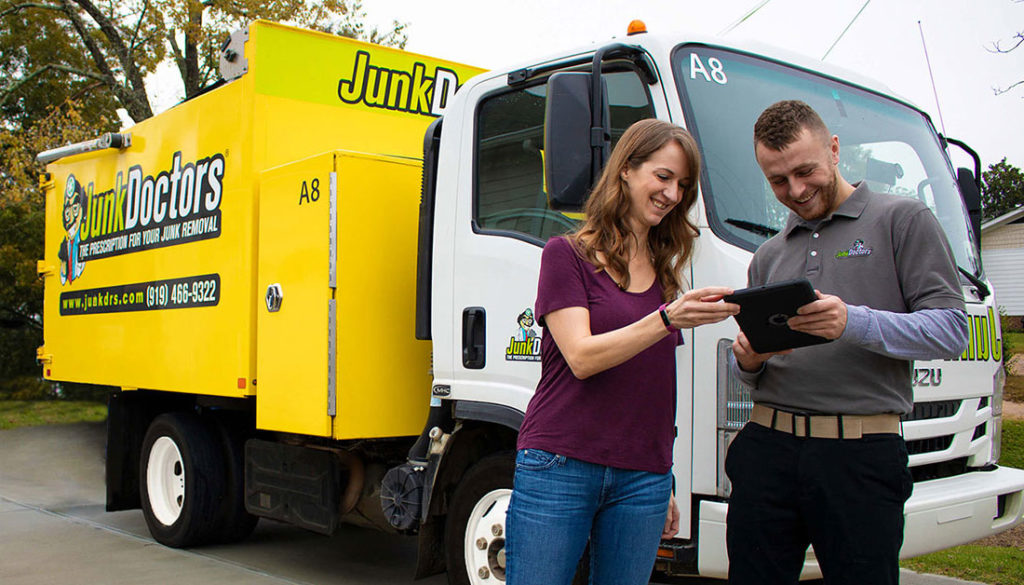 While it can't be denied that junk removal businesses are convenient, there is a price tag attached. It takes money to run a junk removal business because the workers have to be paid, the truck has to be fueled up with gasoline, and the insurance costs have to be covered.
When choosing an option for bulk trash pickup in Charlotte, you need to consider your own priorities. Would you gladly spend money to save time and energy? Then junk removal companies may be the way to go. Like saving as much money as possible? Then try DIY. Are you somewhere in the middle? Then arranging for a public pickup could be the best route for you.
Latest Posts
Local Junk Removal & Hauling Services