What to Do With Your Used Appliances in Charlotte, NC
Appliances are immensely useful devices that we all use in our day-to-day lives here in Charlotte. Although you might not think about appliances too often, their importance can't be understated. Refrigerators keep our food cold. The washer and dryer clean our clothes and make them ready to be worn again. The dishwasher prepares our plates and silverware for reuse. All in all, appliances are wonderful contraptions that make our lives easier. However, broken appliances are obviously not good for anything at all. Sometimes, old, out-of-style appliances are ugly to look at as well. Do you have broken or unwanted appliances that you want out of your life? Are you wondering what to do with old appliances in Charlotte, NC?
Junk Doctors has prepared this guide so you can get those appliances out of your life without winding up confused every step of the way. We are a company that does appliance removal in Charlotte, so needless to say, we have the knowledge you're searching for. Ready to learn? Then let's get started!
Removing the Appliance from the Property
Before you can take the appliance somewhere else, you have to actually get it out of your property first. Whether you're home or at a business doesn't matter, because the process is largely the same. Pick the appliance up, then haul it out the door. For appliances such as toaster ovens, old microwaves, and coffee machines, this is easy. After all, all of these appliances can be quickly moved by an individual. However, other appliances are much heavier and will require multiple people to remove them. Are you struggling with an old freezer, a stove, or other bulky kitchen appliances? Don't be afraid to ask a friend or a family member for help. Promise them a meal, and they'll likely come to your aid.
When figuring out what to do with old appliances in Charlotte, you might face some difficulties. Let's discuss some of the unique challenges different kinds of appliances can pose. We've prepared two examples. Are you trying to get rid of one of the appliances listed below?
Refrigerators. The first step to removing a refrigerator is removing all the food from it. If your refrigerator has broken down recently, you might be pressed for time, since all that food can spoil if left unrefrigerated for too long. What this means is that you'll often be hauling a new refrigerator into the house on the same day that you remove the old one. Be sure to have ample counter space for your food, or store appropriate items in the freezer in the meantime. Is your refrigerator extra heavy? If so, consider using a moving dolly to get it off your property.
Dishwashers. Dishwashers aren't something that you can just lift up right away. There is some amount of disassembly involved; you have to disconnect the dishwasher from plumbing and you have to unscrew or unbolt the beams that keep it firmly in place. Make sure you have the appropriate tools for the job, and, of course, make sure there are no leftover dishes inside before you get started.
Requesting a Bulky Item Pickup from the City
For those who can't haul their own appliance, Charlotte's Solid Waste Services are what many residents rely on to get rid of their junk. Simply fill up a collection bin, leave it on the curb, and let the sanitation workers pick it up. While it's true that standard pickups must fit inside of the collection bin, you can still get rid of an old appliance using public trash collection. All you have to do is request a bulky item pickup on the city's website. Keep in mind your address must be currently listed in the Solid Waste Services database in order to be applicable.
Recycling Your Unwanted Appliances
If your appliance is broken, does that mean that it's destined to go to the landfill? Not necessarily. The environmentally conscious individual will likely try to find a recycling option nearby before resorting to the dump. Fortunately, there are a few choices for appliance recycling in our area. For example, Mecklenburg County's ​​​​​​​Full Service Drop-Off Centers are spread throughout the region, providing residents with places where they can leave their cans, bottles, tires, and even larger items like appliances! You can also drop off your appliances at CMC Recycling, a "reliable solution for scrap metal recycling" near downtown Charlotte.
Donating Your Unwanted Appliances
Wondering what to do with old appliances that still work? If your appliances are functional and in good condition, then you can probably donate them to a thrift store in the Charlotte area. That way, instead of forcing a perfectly good appliance to wind up in the landfill, you'll pass it along to someone who can use it to their advantage. Where should you take your used appliances? The Habitat for Humanity ReStore is one such example of these thrift stores. You could also get in touch with the Salvation Army thrift store. These thrift stores even offer pickup services for large enough items. If you make it worth their time, they will come and get the appliance for you. Chances are, a used appliance is going to be worth their time, meaning you might be able to get rid of it without even lifting a finger.
Disposing of Your Unwanted Appliances
If your appliance is in bad condition and isn't worth recycling, then your only real option may be to take it to a landfill. While this might not be exactly eco-friendly, don't beat yourself up over it. Just get the job done! After loading your appliance into a vehicle that can fit it, drive on over to one of your nearby disposal sites, such as Queen City Transfer Station. Just remember that a landfill will likely charge you dump fees, so be sure to bring cash or a card so you can pay your dues. It'll be worth it to get that broken appliance out of your life permanently.
Hiring Professional Junk Removal Companies
If you've read the previous options for what to do with old appliances in Charlotte and felt they were awfully demanding of your time, then contacting a junk removal business might be the best path for you to take. That way, instead of hauling heavy appliances around for yourself, someone else can handle them for you. You won't have to take the appliances to the curb—instead, a team of experts will enter your property, hoist them up, and remove them for you.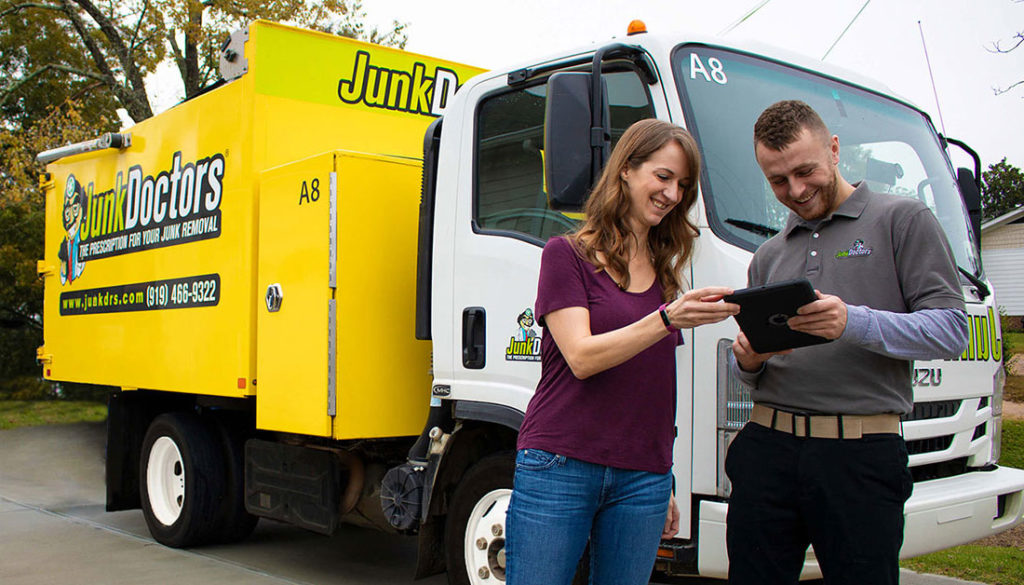 Bear in mind that professional junk removal businesses aren't free of charge. These companies have to pay for insurance, wages, and fuel costs. Because of this, you will need to pay for their services. However, when you consider the fact that these businesses are saving you time and energy, parting ways with some money might not sound so bad. What ultimately matters is getting rid of your unwanted appliances!
Whether you are saying goodbye to an appliance at home or at your business, you now know what to do with old appliances in Charlotte. Now it's time to put this knowledge to use. Which path will you take to get rid of your appliances?