Tips for Handling Trash Overflow in Raleigh
Trash Overflow in Raleigh, NC: A Frustrating Predicament
Life in Raleigh, NC can sometimes be busy. Having to stop everything so you can pick up extra trash? Now that might just be what pushes you over the edge. Are you experiencing trash overflow in Raleigh, NC? Let's begin by introducing the concept. It's fairly simple: when you have more junk than you can contain, then you're experiencing garbage overflow. For example, the local trash pickup services might have missed your home one week, and your collection bin has no more room. On the other hand, your business's dumpster might be jam-packed with junk, and you're left scrambling for a solution before space runs out completely. What on Earth are you supposed to do?
You don't have to be at the mercy of your garbage when there's a missed garbage collection. Junk Doctors will teach you how to resolve the problem! Using this helpful guide, you'll be able to figure out what to do when you're faced with any kind of trash can or dumpster overflow. That way, you're not left stressing over a mess, no matter the circumstances.
Finding Other Places for the Trash
Being skipped over by weekly pickup services can leave you feeling sour. Consider a missed recycling collection as an example. You only have to be bypassed one time to suddenly become overwhelmed with plastic containers, glass bottles, and cardboard boxes. When these items have already piled to the top of your collection bin, you'll have to find another place to put them—or they're going to overflow everywhere.
In a situation like this, if you think you can hold out until the next collection day, you could try to store the excess waste in additional containers. You might want to bag up those overflowing items and store them in the corner of the garage for the time being. Or, alternatively, you could consider asking your neighbor if they have extra room in their collection bin. However, bear in mind that if you got skipped over, it's likely that everyone near you got skipped over as well. There's no harm in asking, though.
With any luck, your junk will be picked up as usual on the next collection day. Consider calling your collection service to verify why you were skipped and to ensure that it won't happen again the following week.
Do-It-Yourself Disposal in Raleigh, NC
When collection services hang you out to dry, it might be time to dispose of the junk yourself. This is especially true if you have nowhere to store the overflowing garbage, or—even worse—it is creating a foul odor that you can't stand. Start picking those overflowing items up, bag them up, and load them into a vehicle of your choice. Now, it's time to take them to a disposal site!
Don't know any disposal sites near you? Well, good news—we do. At Junk Doctors, we handle all kinds of junk removal services, so as you can imagine, we visit these nearby disposal sites all the time. Consider swinging by one of our several local landfills. Or, if you're trying to get rid of recyclables, why not try a regional recycling center? After all, it would be a shame if your cardboard, plastic, glass, and metal items wound up in the dump. Just because there was a missed recycling collection doesn't mean eco-friendliness should be tossed out the window.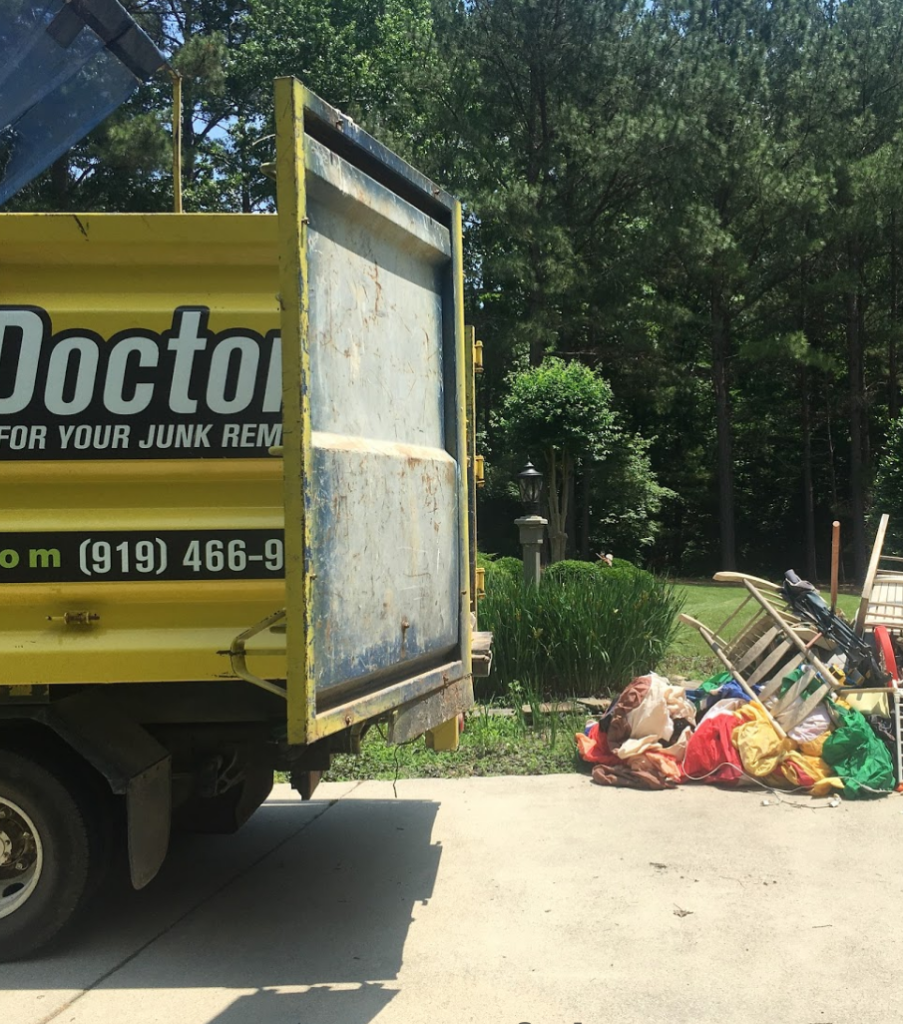 Relying on Junk Removal Professionals
Unfortunately, time is not a limitless resource. There is only so much any given person can accomplish in any given week. Because of this, the problem of trash overflow in Raleigh, NC isn't always so easy to solve. After all, if you're already busy, then how will you find the time to dispose of the overflowing garbage on your own? Unfortunately, sometimes, the answer is that you won't.
That doesn't mean you should just throw your hands up and give up, though. That's because there are junk removal professionals near you that would love to serve as the perfect solution. Many companies, such as Junk Doctors, can handle the overflowing trash for you! All you have to do is contact them and let them know about your problem. Then, they'll come to your rescue, bringing a big truck to put all that garbage inside of. You won't have to wait for the next trash collection day, and you won't have to do any physical labor, either.
Bear in mind, though, that professional junk removal companies won't work for free. They have expenses to cover, and as a result, you should expect to pay for their services. However, when you consider the time and energy you'll save, and the fact that your trash overflow problem will be resolved, you may decide that it's well worth the price tag.