Garage Storage Hacks That Will Free you From the Mess
Is your garage filled with everything except your family cars? Most American garage storage are stuffed full of stuff! Even if we manage to clean our garage up a little or do a slight amount of organizing it seems that within a short amount of time the mess magically reappears.
Following these simple hack from Greensboro Junk Doctors will help you to clear away the junk and get your garage back to its clutter and junk-free space in no time.
Step 1
Pull everything out of your garage and sort it all out. You will need to determine what needs to stay in your garage and what needs to be thrown away or donated. Create piles for each group, donation, junk and items that need to go back into the garage.
Step 2
When you are sorting the garage items, you need to plan how you will organize your garage. Most garages lack shelving, which is essential in garage storage. Keeping as much as possible off of the floor will maximize your garage space.
You will want to make sure that you plan to store like items together so that they are easy to locate when you need them.
Garage Hacks
Once you have everything pulled out of your garage and sorted and a plan of organization, you can use some of these garage storage hacks to help inspire your project.
Pegboard is very useful in garages for hanging tools and can also be used in other creative ways. Try upcycling bottles and storing nuts, bolts, nails and other small items above a workbench, instead of always trying to dig through tool boxes.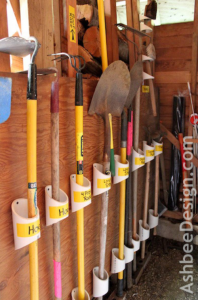 Handled tools should be stored upright along a wall and not on the floor. It keeps the floor clean, reduces tripping, and makes the tools easy to find. Try this hack for easy storage by cutting and using PVC pipe.
A magnetic strip may be your best friend in the garage when it comes to keeping track of drill bits.
If you store shoes in the garage, it can become quite a cluttered mess. Consider installing pegs for people to hang their shoes on. This will get the mess off of the floor and make shoes easier to find.
If you are a fisherman, having a pile of fishing gear in the corner of the garage a hassle when it comes time to go fishing. This set up is easy to accomplish and keeps your fishing rods in great condition.
Contact Greensboro Junk Doctors
Implement garage storage hacks and you will have a garage with good space and junk free. You still have a pile of junk and a pile of donation items from your clean out process. It is important that you don't move those items back into your garage to deal with them another day. If you contact Greensboro Junk Doctors, they will pick up all of your items both junk, and donation within 24 hours.
Greensboro Junk Doctors specializes in the removal of junk from small to large to items, whatever your case may be. Junk Removal Authority will donate your items in good condition to a local charity. Therfore, saving you the time and hassle and they will send you a tax write off form for your donation items.
One of the best ways to stay organized is by getting rid of the junk. Call Greensboro Junk Doctors for more information on how we can help you with your garage clean-out today.