Furniture Removal: What Do I Do With Old Furniture?
Old Furniture Removal
When we are young, we furnish our apartment with whatever we can find, things that friends or family give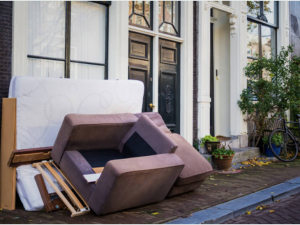 to us, a great deal at a thrift store, or even a piece that you found on the side of the road. However, as we start to grow up, our tastes change, and we start to purchase new furniture and conduct old furniture removal.
Maybe those chairs that you found by the side of the road are now taking up space. Another, that comfortable couch that has to be 30 years old needs to find a new home somewhere else.
So how can you go about the furniture removal process that you so desperately need to? Below are some options that will get you started on the right path to clearing out your old furniture.
Classifieds Ad
If your furniture is decent looking try posting things on sites like Craigslist – Charlotte, or OfferUp. If you're trying to dispose of really old furniture trying to make money off of items may end up in the furniture never leaving your house. Usually giving items away for free works well. Though this can still take time if the items are old or in bad shape. If you need your furniture removal project to move quickly choose another option.
Refurbishing Old Furniture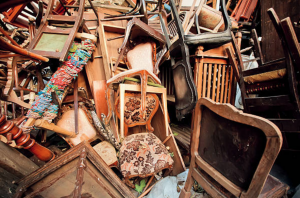 The 30-year-old couch or old armchairs may have good bones. If you are into refurbishing or reupholstering, you could save some pieces and some money on new pieces. You can do this by putting some elbow grease into refinishing what you already have. Adding new knobs and new paint can pay off. However, if you aren't a crafty person this option can end in a lot of money being spent and a lot of wasted time. Proceed with caution.
Reuse or Recycle
Consider reusing your old furniture in other areas of your home instead of going through with the furniture removal process. If you can have the furniture cleaned or use a slipcover you could freshen it up. You can also consider recycling your old furniture. Often it can be difficult to find a company that will recycle furniture parts. However, junk hauling companies often provide this service.
Call Charlotte Junk Removal Authority
Another option, and perhaps the easiest option is to call Charlotte Junk Removal Authority. Charlotte Junk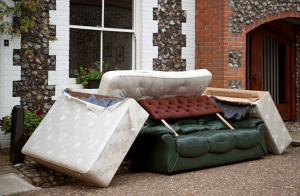 Removal Authority will remove your unwanted furniture no matter how small, or large the pieces are, or how much furniture you want to get rid of.
Also, if any of your furniture is still in decent condition, they will donate it. Environmental responsibility is key to Charlotte Junk Removal Authority, and they work to reduce landfill waste by donating any furniture, clothing and household goods, appliances, TVs and more than they can.
Contact a Junk Removal Charlotte company today to discuss your furniture removal needs today so that you can start to clear all of those old pieces out of your home and make room for the new ones.