Donation Centers in Charlotte, NC–What Are Your Options?
The Importance of Donations
Looking for a good donation center in Charlotte, NC? Donating the old belongings that you no longer want is a great way to reduce landfill waste while also helping someone in need. Some of the items you can donate include clothes, toys, kitchenware, knick-knacks, appliances, furniture, and more!
Donation centers make it easy to donate the items you no longer need. You'll find that donation centers have friendly staff members that are eager to help you. They'll take your items, size them up, and if they fit their qualifications, they'll become part of their operations. Best of all, you can even request a tax write-off for your donations.
It's important that your items are still in usable condition when you donate them. For example, reconsider before you drop off a toaster that can't even heat up your bread anymore. These items that are useless won't help the donation centers, and they may even prove to be a waste of time for everyone involved.
Got items to donate that are in fair condition? Great! The next question is, if you're in Charlotte, NC, where should you take them? Your options are outlined below.
The Salvation Army Donation Center
1011 Central Ave, Charlotte, NC 28204
Located in the center of Charlotte, The Salvation Army Family Store & Donation Center is part of the well-known, ubiquitous national chain. This location accepts almost any sort of used item, including furniture, clothing, appliances, home decor, and more. This location is closed on Sundays.
Habitat for Humanity ReStore
1133 N Wendover Rd, Charlotte, NC 28211
One of Habitat for Humanity's biggest goals is to provide housing to those who need it most. There are many ways they generate funds for these projects, but one of them is via sales from the Habitat for Humanity ReStore. By donating your items here, you are supporting a fantastic cause.
Goodwill Donation Center
6607 South Blvd, Charlotte, NC 28217
Just about everybody has visited their local Goodwill, and that's true for people all across the country. In Charlotte, our Goodwill store is located on South Boulevard. This is a great place to visit not just to shop, but also to drop off your unwanted belongings to be donated.
Crisis Assistance Ministry
500-A Spratt St, Charlotte, NC 28206
For those who need it the most, the Crisis Assistance Ministry allows visits to their Free Store, where they can select clothing and household items to take home free of charge. The Ministry's mission is to provide "help, hope, and understanding for people struggling with limited financial resources".
Using Junk Removal Services to Transport Donations
Donation pickup can be more difficult to come by nowadays. This is in some part due to COVID-19 precautions and in some part to save some money. What this means is that, a lot of the time, you'll have to deliver your items to your donation center of choice on your own. This might not be a big deal if you're dropping off a few plastic totes filled with old clothes. However, once heavy furniture and electronics become involved, it's a whole other story. How will you haul those bulky items on your own?
Good news: you don't necessarily have to. Instead, you can enlist a junk removal company to pick up your items for you. Professional junk removal companies have lots of experience hauling heavy items around, and they also have trucks for quick and easy transportation. Need to save yourself some back pains? Then ask a junk removal company such as Junk Doctors to help you out with your donation deliveries!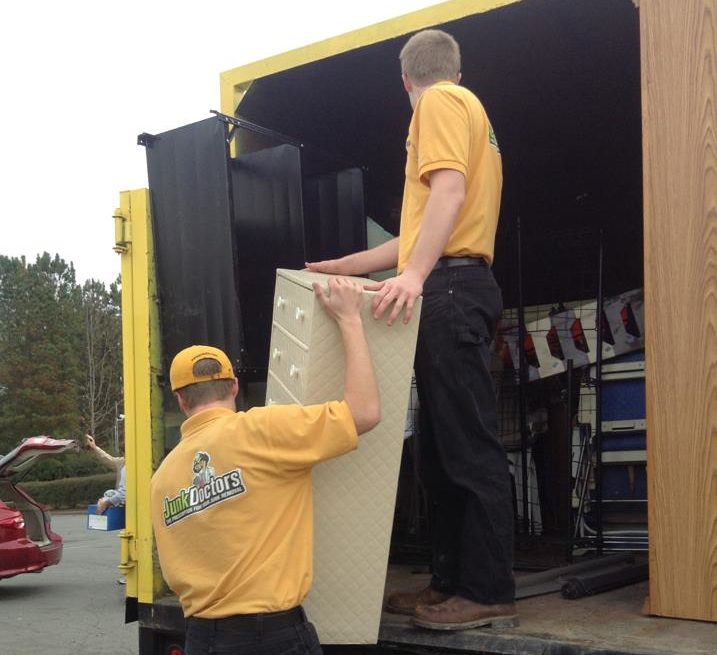 Please note that professional junk removal companies will want compensation for their time and their labor. However, when you are dealing with many different heavy items that you'd like to donate, it can be well worth the money. At the end of the day, no matter how you go about donating your lightly used belongings, you can feel good knowing you're doing a good thing. Give yourself a pat on the back!