Delay in Charlotte Yard Waste Pickup Spring 2022
Charlotte Announces Waste Collection Delays
So, what's the deal with Charlotte yard waste pickup services recently? Have you been patiently waiting for sanitation workers to come pick up your yard debris to no avail? Wondering why you were seemingly glossed over on your most recent collection day? As it turns out, you might be waiting longer than you originally expected. That's because the city has been experiencing labor shortages for their sanitation services. With fewer employees manning the trucks, it's become more and more difficult for them to visit every curbside in the city. What this means is more and more people are finding their yard debris isn't getting picked up.
As you can imagine, the timing is particularly unfortunate for everyone tidying up their landscapes. Now that we're in the thick of spring and summer, there's never been a better time for lawn cleanup. That goes for homeowners and business owners alike. However, all these people in need of yard waste, brush, and leaf pickup aren't getting the help they need.
Potential Causes of the Delay
We've established that there are staffing shortages for the city's trash pickup. The question is—why? It's likely that one of the key causes of this dilemma is the COVID-19 pandemic.
Yes, we're all sick and tired of COVID-19. We want to forget about it, and even the news seems to have moved on to bigger, more interesting topics. However, it can't be denied that the coronavirus has affected how the world works, and it's especially affected the job market. Many people have left the office and gone to work at home. Others have quit their jobs, and others still have snapped up those positions. In other words, the past years have given a lot of people to seek out the careers they want. What this means is that sanitation, while a respectable position, might not be many people's first pick of job. And what this means is that everyone waits longer for the city to pick up their collection curbside trash and yard debris.
Alternatives to Charlotte Yard Waste Pickup
As a substitute to the yard debris pickup, the city has recommended that citizens dispose of their waste for themselves. Their instructions are for people to transport the yard debris to one of four Mecklenburg County recycling centers. Of course, this may prove to be time-consuming for your everyday person. Not only that, but they may even be expected to pay fees when dropping off this waste.
For people who have busy schedules and don't have time to visit nearby disposal sites or wait for the delays to end, another alternative might be needed. Under these circumstances, professional junk removal services in Charlotte may be of use. What is nice about junk removal is that there are no delays and no waiting. Instead, you can book an appointment and have someone on site, cleaning up your waste, as soon as today or tomorrow.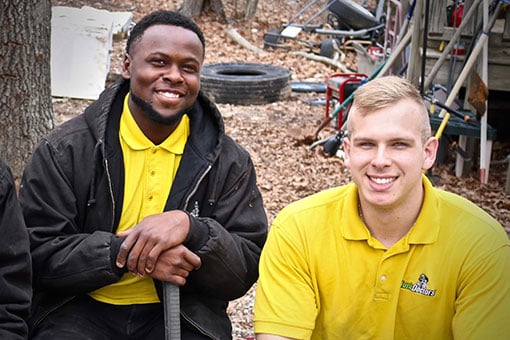 Additionally, with professional junk removal, you don't have to gather up and bag up all that yard waste on your own. Most junk removal services are willing to do this physical labor for you. So, not only will you save time that you would've spent waiting on the city, you'll also save yourself some exhausting work, too. However, you can expect to pay a certain amount for professional help, so there is a trade-off.
Junk Doctors is just one of the many nearby companies that is happy to help you with yard debris removal. We hope you have found the answer to your yard debris problems. With any luck, the city collection services will find the workers they need soon!