As professional Junk Removers, we have the pleasure of seeing a lot of interesting junk. People call on Raleigh Junk Doctors to help them with various projects from single item pickups to hoarder clean outs and all along the way we get to experience interesting finds and exciting times in the junk removal world.
Below is a collection of some of our more interesting junk finds as well as some of our more challenging junk removal jobs.
Junk Removal Finds
Sweet Dog
A sweet animal is far from junk. We found this sweet guy on a junk removal job, left behind after a
hoarder/tenant moved out. He found a new home and a new life. He was a great find.
Pool Table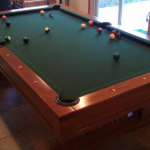 This 750 lb pool table was a hefty job, a great find, and a challenge to move. If Raleigh Junk Doctors can move a 750 lb pool table, we've got you covered!
FootBall
One of the greatest finds ever was this signed football by the entire Super Bowl
Champs Greenbay Packers in 1967. Vince Lombardi, the coaching staff and all the players signed this ball. Great find!
Junk Removal Jobs
You may think about junk removal companies only removing items like furniture and being hired for garage clean-outs. However, Raleigh Junk Doctors has been called on to perform some pretty in-depth junk removal jobs. You may see the below pictures and say to yourself, "I didn't know that you could actually throw that away." But with Raleigh Junk Doctors, you can!
Abandoned Houses/Structures
Often people ask us to help remove abandoned buildings, houses, and structures. We bring in some bigger
tools and sometimes more crew for jobs like these. You can take a look at just a couple of our light deconstruction projects in the following pictures. Removing buildings helps to make space where you need it!
Pools and Hot Tubs
Did you know people ask to have their pools and hot tubs removed? We remove a
lot of hot tubs. For whatever reason people don't use them anyone and then how else do you get rid of something so large and heavy? Raleigh Junk Doctors have it down to a science.
You might not have even considered that anyone would want to remove their inground pool, but we remove those too. Â
Overrun or theme rooms
What's smaller than a pool and runs on a track? A room full of trains! We had the pleasure of dismantling and removing the contents of this room which was for trains. Â
Call Raleigh Junk Doctors
Call Raleigh Junk Doctors today so we can get started with your junk removal needs. Whatever your project may be, we can handle it.