Free Appliance Removal in Charlotte – What Are Your Options?
Our appliances don't last forever. As time goes on, they begin to deteriorate, and eventually, it stops being worth your time to maintain them constantly. Even appliances that still function may lose their appeal because as time marches on, they begin to look garish and outdated. For these reasons, you might start searching for free appliance pick up in Charlotte. After all, you don't want to keep that old appliance around, but at the same time, it's good to save money—right? By that logic, free appliance removal in Charlotte should be the best option.
However, it's not always as simple as this. While it's true there are ways you can get rid of a fridge, a freezer, or another broken appliance for free, it might not be the best match for you. Let's explore the options for free appliance haul away in Charlotte, then take a look at why they're so hard to come by.
Donation Pick Ups
Did you know that some donation centers are willing to come directly to you and pick up your unwanted things? It's true. For example, the Habitat of Humanity Restore of Charlotte, NC is willing to swing by and collect many kinds of appliances from you. All you have to do is make a request on their website, and within one to two weeks, they will come and retrieve your items. It's absolutely free of charge.
It sounds too good to be true, but you must consider that you have to make it worth the donation center's time somehow. In this case, you're accomplishing this by passing them an appliance that's in good condition that also isn't too old. For example, the ReStore won't accept refrigerators and freezers that are more than fifteen years old. Similar restrictions are placed on other appliances. And, of course, if your appliance is broken, then you can forget about it entirely.
Don't want to give up on donating your appliances? If so, you may find success on online platforms like Facebook Marketplace and Craigslist. While giving away your things on these online forums isn't quite the same as donating them to a charity organization, you'll find it can work all the same. Simply state that you will part ways with the appliance for free, and people might be interested in taking it off your hands. In fact, they may even be willing to do all the heavy lifting for you.
DIY Appliance Removal
As with all things, you can always avoid spending money by doing the work yourself. That's entirely the idea behind all the DIYers who handle their own junk removal needs all throughout the area. However, some junk removal projects are tougher than others, and appliance removal is about as tough as it gets. Don't risk your health trying to remove a heavy appliance on your own! For example, imagine that you're trying to get rid of a washer and dryer. While washing machine removal for free sounds great, throwing your back out because you bit off more than you could chew sounds awful. So don't be afraid to tag in a friend to help you out. And please, always exercise caution when hauling appliances down stairwells, through hallways, and towards a vehicle you can load them into.
Once the appliance is off your property, the job still isn't over. You'll have to find an appropriate disposal site to take it to, which may require you to pay dumping fees. Also consider that you'll need to use your vehicle's fuel and maybe even give your helping hand some dinner. In a sense, this means that do-it-yourself appliance removal isn't free after all.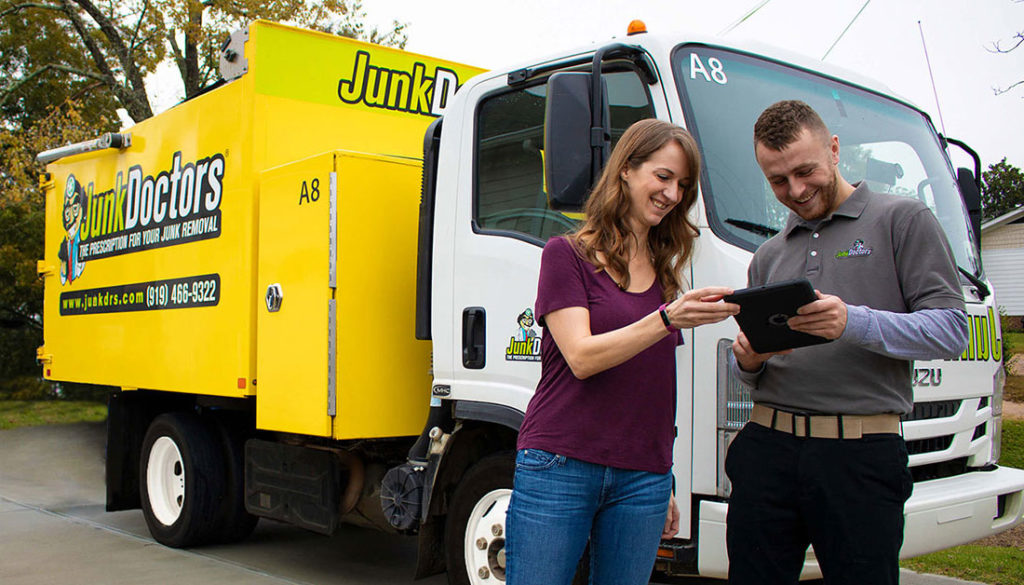 Why Free Appliance Removal is Hard to Find
Ultimately, there are a lot of struggles involved with removing and disposing of appliances. Since this work is so difficult, you're going to be hard-pressed to find free appliance removal in Charlotte, or any free junk removal services at all. If you do, you'll have to pay one way or another, whether it's through the donation of a functional appliance or through your own time and effort. That's why the many junk removal companies serving Charlotte, such as Junk Doctors, request money in exchange for their appliance removal services. After all, these businesses are paying dump fees and using their gas as well. They can't continue to operate without some sort of cash inflow.
At the end of the day, it's up to you to decide how to remove that unwanted appliance from your property. If it's still in good condition, then you may be lucky enough to have a donation center pick it up for you. However, for those appliances that are older—or nonfunctioning—you'll need to hope someone online will pick it up just for the scrap. Otherwise, expect to get your hands dirty with some DIY work or to crack open your wallet for professional services.